High 5: French Dining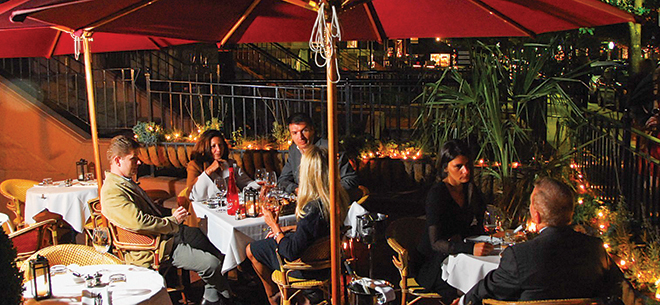 Photo: arturophoto.com
Revel in the spirit of Bastille Day at these Gallic-themed eateries
La Voile: Savor two locations—one on Boston's ritzy Newbury Street (pictured) and the other in neighboring Brookline—of this sailing-themed French oasis, which hosts the French Cultural Center's Bastille Day celebration on July 14 from 5–9 p.m. in the upstairs room at its Brookline outpost. Enjoy live French jazz, dancing, a host of savory treats, rosé from Provence and activities for the kids.
Frenchie: This welcoming South End wine bistro offers such classic and authentic menu items as steak tartare, onion soup, escargot and steak frites along with plenty of Bordeaux, Burgundy, Champagne and Sancerre to wash it all down. And be sure to check out Frenchie's restaurant sœur, Colette, in Cambridge's Porter Square as well.
Aquitaine: Also in the South End, this longtime hot spot for carefully crafted French fare has been satisfying discerning diners for more than a quarter century. Indoors or on its expanded patio, diners flock here and the satellite location in Chestnut Hill for the Parisian vibe, not to mention delicacies like moules frites, Faroe Island salmon and filet au poivre.
Petit Robert: Yet another South End boîte, Petit Robert boasts a menu featuring familiar French favorites like salade niçoise, foie gras, croque monsieur, bœuf Bourguignon and coq au vin for lunch, dinner and weekend brunch, as well as a charming street-side patio along Columbus Avenue.
Bistro du Midi: Perched across from the beautiful Public Garden, this upscale dining destination is more that just its eminently praiseworthy location. Along with its casual, street level patio and eatery that's perfect for popping in for a drink and a Bistro burger, flatbread or croquet madame, the establishment also houses a more formal main dining room upstairs that serves fresh oysters, caviar, bouillabaisse, duck breast and other luxurious menu items.