High 5: Pumpkin Treats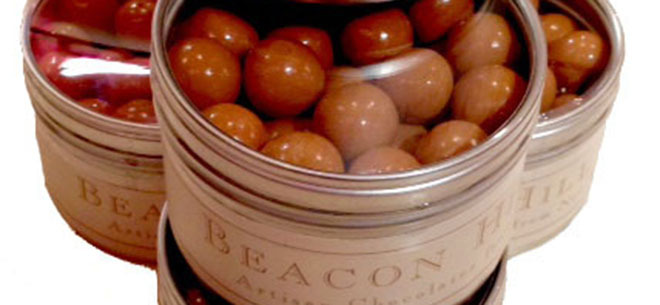 Head to these locales to indulge in a variety of gourd-inspired creations
Beacon Hill Chocolates: For those that can't get enough pumpkin spice this time of year, this acclaimed Charles Street sweet shop offers its Pumpkin Spice Caramels (pictured), which are adorned with white chocolate and can be purchased in-person or online.
JP Licks: Can a treat be both cold and warming at the same time? Find out at the favorite local ice cream purveyor, which has locations all over the Boston area that all serve its creamy and delicious Pumpkin Spice ice cream laced with nutmeg and cinnamon and sweetened with molasses.
Kane's Donuts: The longtime Saugus-based confection-maker, which also boasts an outpost in the Financial District, teams up with Everett brewery Night Shift to offer the Pumpkin Piescraper donut, a cake-style pumpkin donut dusted with nutmeg and cinnamon and doused with a beer reduction and honey glaze.
Night Shift Brewing: Speaking of which, head to the original Everett facility to sample a pint or pick up a four-pack of the seasonal, pastry-inspired pumpkin beer from the craft brewer's Piescraper series, which is made with vanilla beans, spices, maple syrup and lactose. What's more fall than that?
Petsi Pies: The acclaimed Somerville specialist currently offers its delectable, autumn-only pumpkin pie, chock full of warming spices and made with Walden Local pasture-raised eggs and grass-fed milk.