Same-Sex Ballroom Dance Competition lands in Boston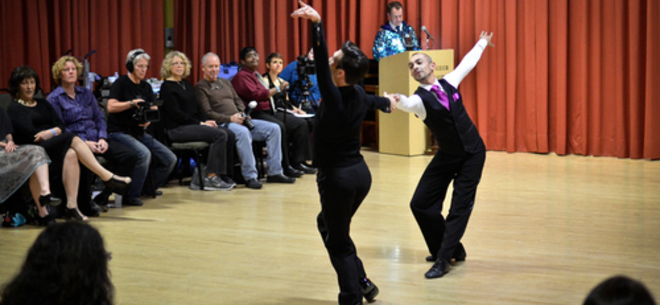 Kalin Mitov was just five years old when he fell in love with dancing. His sister's friend, a dancer, was the most beautiful girl he'd ever seen, and when she took him to one of her dance competitions, he was hooked. "I was like, 'Wow, that's so cool! All these sparkles and dresses.'"

He started taking classes at age 7, and 30 years later, he's a leader in the American same-sex ballroom dancing community and the organizer of the inaugural Boston Open DanceSport competition at the Hynes Convention Center Sept. 20-21.

In his native Bulgaria, ballroom dancing was viewed as a sport, while in America it's typically seen as more of a social event. But Mitov obviously still retains a competitive streak, boasting a number of impressive awards; he and his dance partner Michael Winward were crowned the 2013 North America American Style Champions.

Mitov started same-sex dancing in 2004, and says it's not too far off from dancing with someone of the opposite sex. "The look is different, but it's kind of the same," he says. "It's a little more challenging to be a dancing partner. Dancing with the same sex, you should be able to learn in full, which makes it a little more complicated than mainstream dancing when you don't need to know anything other than your own steps. But with same-sex dancing, it's very easy to change steps as partners and switch leads. It makes it very interesting."

As for his favorite type of ballroom dancing, Mitov says it depends on the couple. "Two people have to sync themselves," he says. "You have to take out the physical and emotional part of the two of you to see if you can do all of the styles or do one. You have to check the physics to see if you can present yourself better."

The Boston Open DanceSport competition is the first of its kind in New England. The event welcomes dancers of all levels, ages, and sexual orientation. Competitions include the four most popular divisions: Single Dance (merengue, salsa, polka, bachata, hustle, country waltz, and two-step); Multi Dance (international style, American style, and Argentine tango); Formation Teams; and Show Dance. Dancers will be accompanied by music from The Mood Swings Orchestra, an all-female big band. Find out more at bostonopendancesport.com.