Going for Gold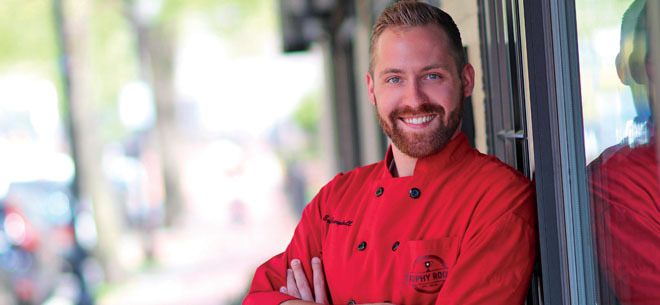 "It's a nice neighborhood restaurant with great food, killer drinks and a classy yet comfortable atmosphere," is how Executive Chef and General Manager Evan Campbell describes Trophy Room, part of Boston's hip and historic Chandler Inn. Established in 2014, this South End bistro was once the popular gay sports bar Fritz.
When news got out that Fritz was being transformed, the LGBT community speculated that 26 Chandler St. would no longer be gay-friendly. That was not the case. "With online dating, pickup bars are a thing of the past," 27-year-old Campbell said. "We not only wanted to make a great place for the gay community but for the straight community and hotel guests as well."
Although Campbell shies away from labels, Trophy Room can certainly be considered more than gay-friendly. Ninety percent of Trophy Room's staff is gay as is much of the restaurant's neighborhood clientele. Campbell explains it best: "I don't think Trophy Room is exclusively gay. It's just a great place with a fabulous group of regulars."
Whatever its past, Chef Campbell is proud that Trophy Room is known for being a cozy neighborhood bistro. Where most pub-style restaurants earn approximately 75% of their income from the bar, Trophy Room's number drops to 55%. Perhaps that's because Campbell likes to keep things fresh. "I get bored cooking the same things over and over again," Campbell shared. "I change up the menu every three months."
Trophy Room's menu is atypical bar food. You can currently find sautéed root vegetable hash, pan-seared duck breast and vegan spaghetti on the menu. "A lot of South End restaurants lack focus on dietary restrictions," Campbell shared. "We want diners to have healthier options other than just salad." Healthy or not, Campbell and owner Cliff Long strive to make Trophy Room's menu affordable. "Where else in Boston can you get a martini for seven dollars?" Campbell added.
Campbell serves on the Executive Board of Directors for the Greater Boston Business Council, Boston's gay chamber of commerce. Trophy Room sponsors gay sports teams and hosts the longest-running block party in the history of Boston, the Chandler Street Block Party. All proceeds go to AIDS Action. "Last year we had 5,000 people. This year we expect more."
Whether serving thousands at the block party or coming up with new menu creations, Campbell is proud to be a part of Boston's restaurant community and pleased to welcome visitors and regulars alike. Happy Pride!
Photo: David Costa