Rhett Price: From the T to YouTube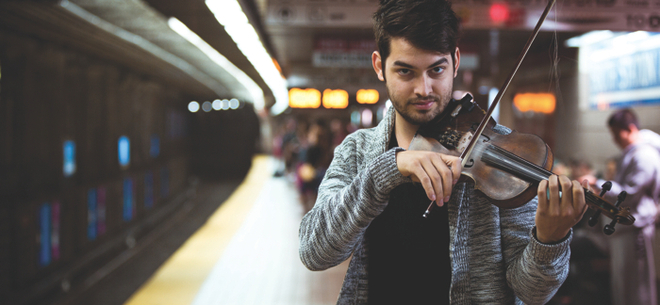 Margarita Polivtseva
Rhett Price was touring Texas with a country band when he had his ah-ha moment. During a sound check, he started playing Led Zeppelin's "Kashmir" on his violin. The drummer and bassist joined in, and when they stopped playing, the audience went wild.

"Everyone freaked out because it was something they'd never seen before," the 24-year-old says. "After that, it was all I could think about. I couldn't get it out of my head." He bought a one-way ticket to Boston, and two weeks later, he was playing Macklemore and Michael Jackson around the Hub's parks and T stations. Not long after that, a
video
of him playing Taylor Swift's "I Knew You Were Trouble" went viral on YouTube, garnering well over a million views and calls from media giants like the
New York Post
and the
Huffington Post
.
Price had originally moved to Boston three years earlier to attend Berklee, but he quickly fell on hard times. Unable to afford the high costs of tuition and city living, he spent several months sleeping on friends' couches and in Berklee practice rooms. During the day, he tried to make money by playing around the city. "I would get up every morning and go out to the Common and play by myself," he says. "There was one day I was like, 'Wow, I have $2 to my name. If I don't go out and play today, I won't eat.'" That's when he decided to move back to Texas, where he saved up money touring with the aforementioned country outfit.
Upon his return to Boston, Price started playing regularly with his friend and fellow violinist Josh Knowles. As winter set in, they headed underground, entertaining commuters while raking in sometimes hundreds of dollars per day. "I worked really hard the whole time we were busking," Price says. "I was like, this is not what I want to do with my life." He used the money to invest in business cards and flyers. He also posted dozens of videos on YouTube, filmed on his computer at home. But everything changed when a filmmaker friend created a video of the duo performing the Swift song.
Price started getting calls to perform gigs all over Boston, and he stopped busking. Instead, he spent his free time putting together a band in which his violin is the lead singer. "My full band, you can't find it anywhere else in the world."
While you probably won't see Price playing his violin the next time you're waiting for the T, he now regularly performs in venues throughout the city—his next gig is at the Middle East in Cambridge (472-480 Massachusetts Ave.) on November 22. Now focused on writing original songs, planning a tour and taking lessons from a New England Conservatory teacher, Price feels confident about his future. "I'm not too worried," he says. "I think as long as I keep going with my intuition, I'll be OK."