Challenge your palate at the Boston Wine Expo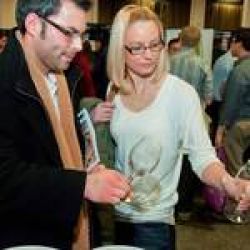 How many different kinds of wine do you think you can try in one day? Fifteen? Fifty? How about 1,800? That's how many international varieties you'll find at the Boston Wine Expo, the largest consumer wine expo in the United States. Time to sharpen those sniffing and sipping skills.
Taking place at the Seaport Hotel and World Trade Center (One Seaport Lane) February 15 and 16, the Expo celebrates wine and the good-life culture surrounding it. The main event is the Grand Tasting, where you can sample sips from more than 185 wineries and food from New England's hottest chefs. Throughout the day, gourmands like Ming Tsai, Barbara Lynch, Jody Adams and Michael Schlow will give cooking demonstrations on the Celebrity Chef Stages.
For those who like a side of education with their wine, there are seminars throughout the weekend about everything from Languedoc to cheese and wine matching to great Spanish budget wines.
If wine isn't your thing (though we're not sure why you'd be here if that was the case), there are also seminars devoted to rum, scotch, craft distilling and even a mixology competition.
Tickets for the Expo are $95 on Saturday, $85 on Sunday and $145 for a weekend pass. Find out everything else you need to know at
wine-expos.com
.