Boston's Waterfront
Whether by land or by sea (or both!), exploring all that historic Boston Harbor has to offer is the perfect summertime activity.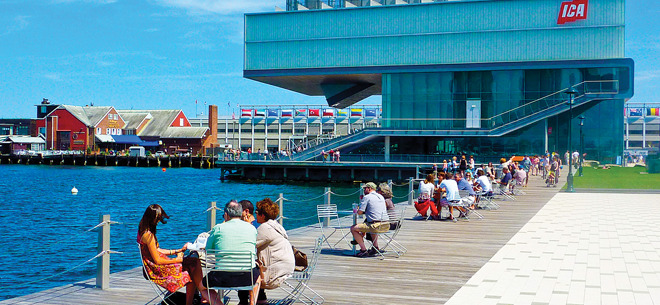 Photo by Tim Grafft
1. Fan Pier
This ever-evolving neighborhood is where you can find the Institute of Contemporary Art, two harborside parks, several restaurants, high-end clothing at Louis and a salon. Northern Ave., 617-261-4500, fanpierboston.com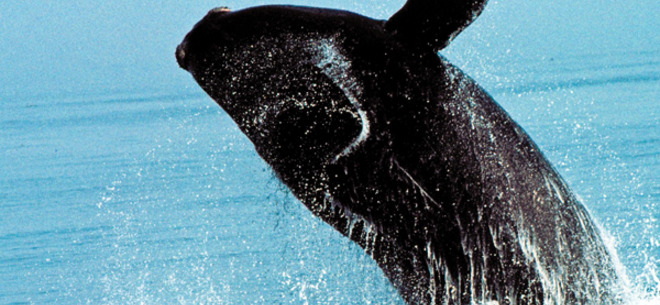 2. New England Aquarium Whale Watch
Get out on the water to witness the largest wildlife around. The Aquarium's cetacean-themed, three hour cruises go to Stellwagen Bank Marine Sanctuary, where you can view humpback, minke, finback and pilot whales, as well as other ocean creatures, including dolphins. If you're lucky, maybe you'll spy a rare North Atlantic right whale. Central Wharf, 617-227-4321, neaq.org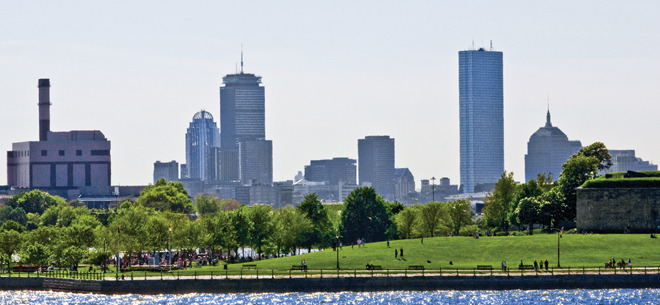 Photo by David Fox
3. Castle Island
Although no longer an island, this 22-acre park along Pleasure Bag is home to historic Fort Independence, an 1851 fortification offering free tours. It is the eighth fort on the site, which dates back to 1634. Day Blvd., South Boston, 617-727-5290, bostonfortindependence.com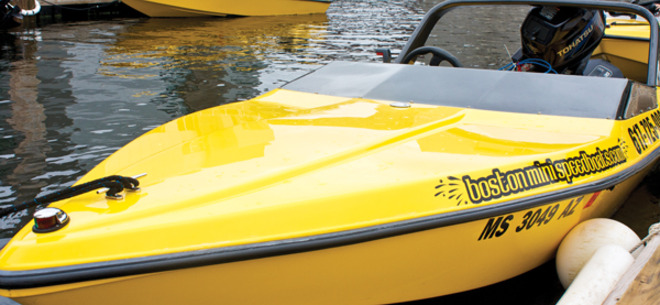 4. Boston Harbor Mini Speedboats, Inc.
After some training, pilot your own F-13 mini speedboat around Boston Harbor. Follow the tour guide out to Castle Island and Columbia Point, home of the JFK Library, and visit such famous sites as the Fort Point Channel and Charlestown Navy Yard on the way back. India Wharf, 617-725-0900, bostonminispeedboats.com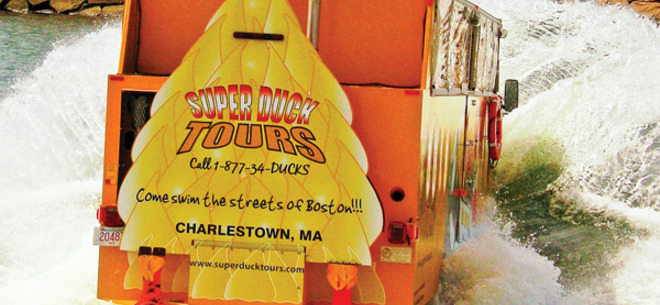 5. Super Duck Tours
Experience the wet and wild side of Boston on this amphibious, fully narrated tour that spends 45 minutes on land visiting some of the city's best historic sites before splashing down in Boston Harbor for a 45-minute cruise along the Hub's waterfront. Charlestown Navy Yard, 877-34-DUCKS, bostonsupertours.com
Photo by Kindra Clineff
6. Children's Wharf
Named for the beloved Boston Children's Museum, this Fort Point Channel locale intersects the Boston HarborWalk, an extensive network of waterfront foot paths, and contains a park and plaza featuring the iconic Hood Milk Bottle kiosk. 308 Congress St.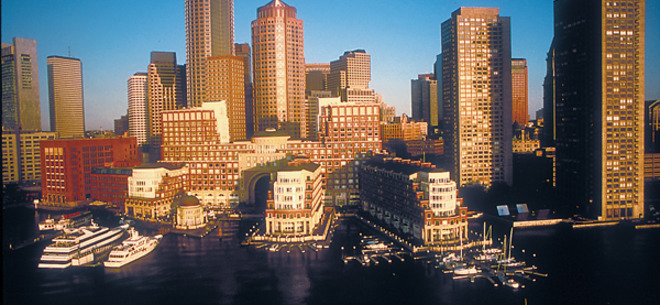 7. Rowes Wharf
Framed by the distinctive archway of the Boston Harbor Hotel, this area features outdoor dining, free music performances Tuesday–Thursday, free movies on Friday evenings and a ferry terminal offering harbor cruises. Atlantic Ave.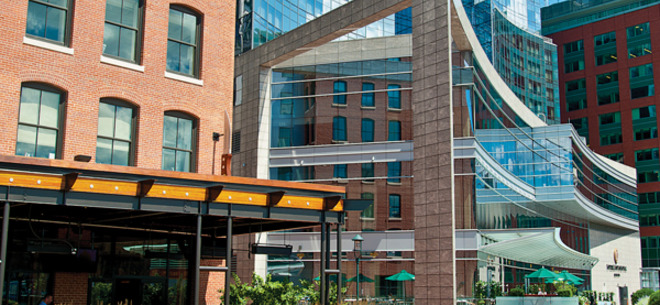 Photo by Kindra Clineff
8. Atlantic Wharf
Renovated in 2011, the former Russia Wharf complex on the downtown side of Fort Point Channel boasts a waterfront park, four restaurants, a cafe/bakery and an art gallery. Atlantic Ave. and Congress St., 617-603-7195, atlanticwharfboston.com
Photo by Chip Nestor
9. Liberty Wharf
Legal Sea Foods' tri-level Legal Harborside anchors this complex that also includes high-end Mexican restaurant Temazcal, Jerry Remy's Sports Bar & Grill, the intimate 75 at Liberty and the Boston outpost of the luxurious Del Frisco's Double Eagle Steak House chain. 220-270 Northern Ave., libertywharf.co
10. Charlestown Navy Yard
Home to the famed free attractions the USS Constitution and its namesake museum, this facility, dating back to 1800, is also the berth of the World War II-era destroyer USS Cassin Young and, although decommissioned, is one of America's oldest military shipyards. 11st Ave., Charlestown, 617-242-5601, nps.gov/bost