A Peek at the Past: The Back Bay Fens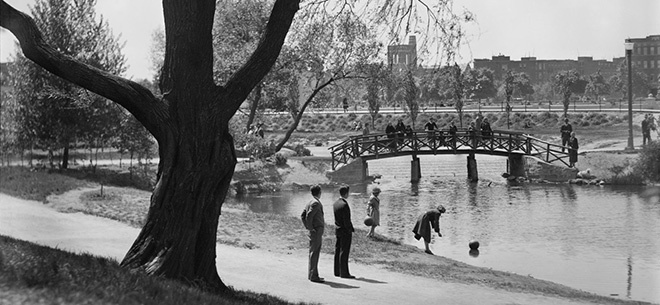 Leslie Jones/Boston Public Library
Once a problematic swamp, the Back Bay Fens is one of the crowning jewels in Boston's Emerald Necklace park system. Designed in 1878 by Frederick Law Olmsted, the father of American landscape architecture, the Fens—sometimes referred to as the Fenway like the surrounding neighborhood to which it lent its name—is now a beautiful oasis where once there had been a malodorous marsh.
The land on which the Fens sits was originally a large tidal flat that became increasing fetid as the population of Boston grew and more and more sewage was dumped into the area. Beginning in the 1820s and continuing until the end of the 19th century, this immense area began to be filled, creating new lands and neighborhoods, including the adjacent Back Bay. One of the last areas to be filled was the Fenway. The renowned Olmsted was tasked with restoring some of the marshland and came up with a plan to control flooding and sewage run-off, crafting a public park around the existing Muddy River that drained into the Charles River. The Fens, as he named it, was completed in 1888.
The Back Bay Fens owes many of its current features to landscape architect Arthur Shurcliff, who transformed the park after the Charles River was dammed in 1910, turning the water from salt to fresh and rendering most of Olmsted's plantings unsupportable. These amenities, and others added later, include ball fields, walking and biking trails, the gorgeous Kelleher Rose Garden, several war memorials and a World War II-era Victory Garden created to provide a ration-plagued city with fresh vegetables. It is one of the last surviving community gardens of its kind in the country.
Today, the Emerald Necklace Conservancy (emeraldnecklace.org) oversees the adjacent parks from The Shattuck Visitor Center—originally a pump station designed by H. H. Richardson—in the Fens. Despite the many transformations the Fens has undergone, you can still celebrate the life of Olmsted, its original mastermind, on his birthday, April 26, from 4–7 p.m. at the Fenway Community Center (1282 Boylston St., 857-246-9053, fenwaycommunitycenter.org). Meet "Mr. Olmsted" while toasting him with a slice of birthday cake.