Guide To The South End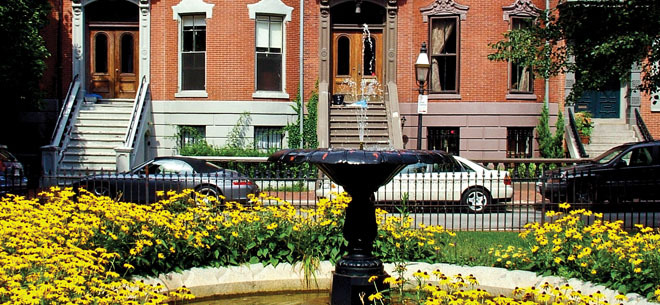 Get to know the neighborhood that's a bastion of hip restaurants, art galleries, hidden landmarks and Boston's LGBTQ culture

Union Park
This area—lined with the neighborhood's signature bow-fronted townhouses and patterned after the elegant garden squares of London—is one of Boston's most picturesque residential streets. Completed in 1859, it is also home to several nearby boutiques and the adjacent South End Buttery cafe on the corner of Union Park and Shawmut Avenue, which offers outdoor seating for prime people-watching while you enjoy a homemade pastry and toasted almond mocha latte.
Between Tremont and Albany streets
Boston Center for the Arts
Theaters, artist studios, two restaurants, an art gallery, Boston Ballet headquarters and the Cyclorama make this beloved arts complex a hotbed of activity.
539 Tremont St., 617-426-5000, bcaonline.org
Cathedral Station
This unpretentious gay sports bar known for its reasonably priced food and outdoor patio also offers Saturday and Sunday brunch as well as late-night dancing.
1222 Washington St., 617-338-6060, cathedralstation.com
Formaggio Kitchen
Artisan cheeses, handmade chocolates, small production charcuterie, carefully selected wine and craft beer—get all your vital necessities at the South End outpost of this gourmet shop.
268 Shawmut Ave., 617-350-6996, formaggiokitchen.com
SoWa District
Short for "South of Washington," this artsy area boasts a high concentration of art galleries, particularly around pedestrian-friendly Thayer Street (pictured), as well as acclaimed restaurants like Cinquecento Roman Trattoria and the Parisian-style bistro Gaslight.
sowaboston.com
Harriet Tubman Square
The new face of the $20 bill also graces a statue at this spot honoring the courageous conductor on the Underground Railway that offered freedom to countless slaves.
450 Columbus Ave.
Holy Cross Cathedral
The largest church in New England and the center of Catholic life in Boston, this grand, Gothic-style edifice was dedicated in 1875.
1400 Washington St., 617-542-5682, holycrossboston.com
Southwest Corridor Park
This linear oasis for walkers and cyclists on the South End/Back Bay border boasts a playground, dog park and community gardens.
Begins across from Back Bay Station, 145 Dartmouth St., swcpc.org
Tremont Street
The South End stretch of this extensive boulevard is sometimes referred to as "Restaurant Row," and it's easy to see why. Some of the city's most desirable tables—from the soon-to-reopen French favorite Aquitaine to Barbara Lynch's acclaimed sister restaurants, B&G Oysters (pictured) and The Butcher Shop, to the adventurous American bistro Tremont 647 and pizza-and-ice-cream eatery Picco—are located here.
The Boston Eagle
A dive bar in the best sense of the word, this longtime, no-frills LGBT hangout is a favorite with the last-call crowd and known for its eclectic staff as well as clientele.
520 Tremont St., 617-542-4494, facebook.com/Boston-Eagle
Photo: Della Huff