A Peek at the Past: Union Oyster House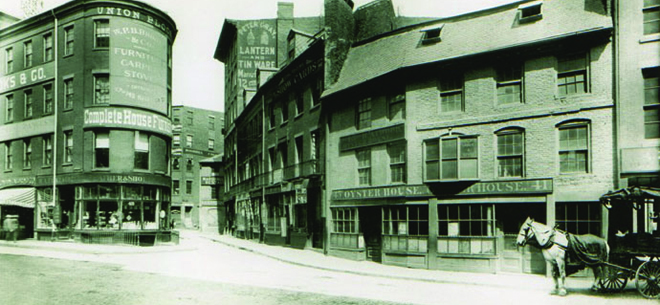 As the country's oldest continuously operating restaurant, the Union Oyster House (or Ye Olde Union Oyster House, if you prefer) has served its fair share of fresh bivalves, among other delicacies, over the past 190 years. Since 1826, customers both ordinary and extraordinary have walked through its venerable doors, including such famous patrons as statesman and orator Daniel Webster and former U.S. President John F. Kennedy. The ancient timbers of the Union Oyster House practically exude history, one of the many reasons the eatery continues to attract avid fans to this day.
The building itself—located right on Boston's Freedom Trail that combines 16 sites essential to America's formative years—has its own notable past pre-dating the restaurant that now resides there. The edifice was designated a National Historic Landmark in 2003 not only because of the Union Oyster House, but also for its status as the oldest standing brick building in Boston, a fine example of the Georgian architectural style. The exact date of construction is unknown, yet prior to its advent as a prime seller of crustaceans, the locale—which strategically backed up to Boston Harbor in the colonial days—served as a dry goods shop beginning in 1742. In 1771, the upper floor served as the print shop of Isaiah Thomas, publisher of the revolution-minded The Massachusetts Spy. In 1775, the first paymaster for the Continental Army, Ebenezer Hancock, set up shop here, and the wives and neighbors of many of the Founding Fathers sewed and mended clothing for the colonists during the American Revolution. Post-revolution, in 1796, future king of France Louis Phillippe, who ruled from 1830–1848, resided here.
The early 19th century saw the rise of a major craze for oysters in the young country, so it wasn't long before Capen's Dry Goods Store was transformed into the Atwood & Bacon Oyster House, later renamed for the historic street on which it is located. Slinging shellfish to a who's who of illustrious customers over the years—from the aforementioned Webster, who allegedly consumed several plates of oysters a day along with a tumbler of brandy and water, to presidents from Franklin Roosevelt to Bill Clinton, and celebrities of every era—isn't the Union Oyster House's only claim to fame. It is also the site of the first use of the toothpick in the United States and where the first waitress in America was employed beginning in the 1920s. Besides the classic menu of clam chowder, steamers, mussels, scrod and lobster, other notable features include a booth dedicated to JFK, as well as the semi-circular raw bar nicknamed in honor of the shuck-happy Webster. Despite a few nods to modern tastes on the menu, the Union Oyster House remains, remarkably, the same spot in which generations of Bostonians and visitors alike have indulged their appetites for both seafood and the past.