High 5: Boston Waterfront Dining
Sup seaside at these favorite eateries on historic Boston Harbor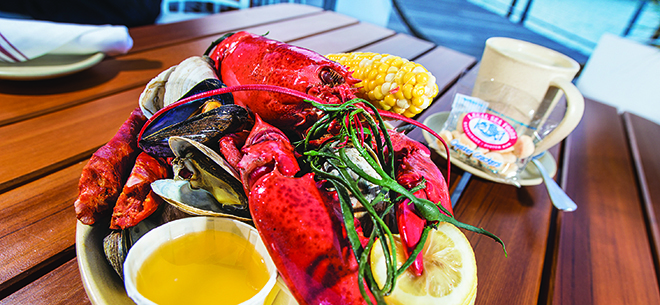 Photo: Derek Kouyoumjian
The Barking Crab (88 Sleeper St., 617-426-2722, barkingcrab.com): Its iconic red and yellow tent has been beckoning seafood lovers to this Fort Point Channel mainstay since 1994. Boasting an informal atmosphere, communal seating and such delectable seagoing fare as stuffed clams, Buffalo shrimp and fried clams, The Barking Crab offers rustic dining in the heart of the city.
Legal Harborside (Liberty Wharf, 617-477-2900, legalseafoods.com, pictured): This multi-level, Liberty Wharf-situated outpost of the Legal Sea Foods restaurant empire has something for every seafood lover, from oysters and clam chowder in the casual first floor dining room to lobster beignets and grilled swordfish in the formal second floor space to sushi and sandwiches on the upper deck, which boasts a retractable roof.
No Name Restaurant (15½ Fish Pier West, 617-423-2705, nonamerestaurant.com): Since 1917, the Contos family has been serving fresh-off-the-boat, no-frills seafood like broiled scrod, fried scallops, crab cakes, lobster rolls and its famous seafood chowder to generations of Boston fishermen and visitors alike at this Fish Pier institution.
The Reef (New England Aquarium Plaza, Central Wharf, 617-973-5200, neaq.org): A seasonal outdoor bar and restaurant located right in front of the beloved New England Aquarium (refer to listing, page 47), The Reef serves seafood, flatbreads, sandwiches and snacks along with cocktails and both beer and wine on tap.
Rowes Wharf Sea Grille (Boston Harbor Hotel, 617-856-7744, roweswharfseagrille.com): A refined setting overlooking Boston Harbor and inventive dishes like pan-seared, cornmeal-crusted soft shell crab and yellowtail and yellowfin tuna crudo aren't the only amenities this Boston Harbor Hotel restaurant offers. Diners can also enjoy free outdoor entertainment—from live music Tuesday through Thursday nights and films on Friday evenings—thanks to the hotel's annual Summer in the City program.