A Peek at the Past: Faneuil Hall Marketplace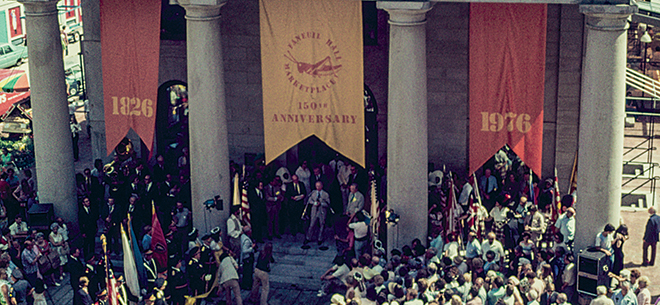 Photo: William L. McQueen
Faneuil Hall Marketplace—a shopping, dining and entertainment destination in the heart of the city comprised of four historic buildings and open areas for pushcart vendors and street performers—has been a beloved local fixture for four decades now. What many may not know, however, is that it was once in danger of disappearing forever.
Faneuil Hall Marketplace takes its name from Faneuil Hall, a 1742 meeting house that is often referred to as "The Cradle of Liberty" due to its status as the site of many revolutionary-minded speeches in the colonial days. Faneuil Hall, located next to what back then was Boston's waterfront, was also used by merchants of all stripes. As the city grew, the adjacent shoreline was extended with landfill and the marketplace was expanded to include what would eventually be called Quincy Market, which was named after Boston's second mayor, Josiah Quincy III. Quincy presided over the construction of the 535-foot-long, two-story Greek Revival edifice that opened its doors in 1826. The brick-and-granite North and South market buildings were created at the same time, serving as additional space for merchants to supplement the meat, fish and produce stalls at Quincy Market. The project was a rousing success, creating a focal point for economic activity in the city as well as a distribution center for goods that were sent all over New England and beyond.
By the middle of the 20th century, however, many of the grocery wholesalers had moved to modern facilities in Boston's suburbs, leaving the neglected structures around Faneuil Hall to fall into a state of decay. Quincy Market received a much-needed boost when it was designated a National Historic Landmark in 1966, and the city began, in the late 1960s, looking for ways to revive the area. Architect Benjamin Thompson—who teamed with developer James Rouse and gained the support of then-Mayor Kevin White—came up with a plan to turn the marketplace into a retail hub filled with shops, restaurants, food stalls and local artisans selling crafts from pushcarts. The plan took about a decade to come to fruition, but when it was complete, the resuscitated complex re-opened to an eager public on August 26, 1976 (pictured), the 150th anniversary of the debut of the original, expanded marketplace. A popular (and still thriving) street performers program debuted at the same time. The South and North markets, which experienced even more extensive renovations, re-opened in 1977 and 1978, respectively.
After its debut, Faneuil Hall Marketplace gained wide recognition and even influenced the creation of similar urban marketplaces all over the world. Today, it remains one of the most visited sites in all of Boston for its unique blend of food, shopping, history and fun.