A Peek at the Past: Charles Street Meeting House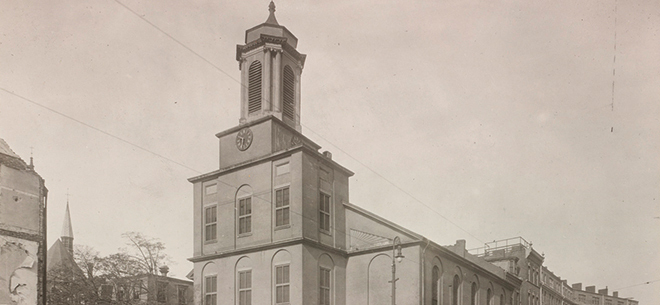 February is Black History Month, so there's no better time than now to explore the significant sites in African American history that are right here in Boston. One such locale is the Charles Street Meeting House in the Beacon Hill neighborhood. Completed in 1807, this stately brick structure has had many lives in its illustrious past. Although originally home to a white congregation, it later became a flash point for abolitionist fervor and a hotbed of activity for Beacon Hill's burgeoning 19th century black community, earning its prominent place on the Hub's Black Heritage Trail.
Designed by famed American architect Asher Benjamin, the edifice at the corner of Mount Vernon and Charles streets began its existence as the Third Baptist Church of Boston, although the name was later changed to Charles Street Baptist Church when the rights to that name were challenged by an African church also on Beacon Hill. For decades, the house of worship was strictly segregated, with black attendees forced to sit in the gallery and not allowed the same rights of white members. In 1836, however, abolitionist church member Timothy Gilbert invited a few black friends to sit with him in his pew. Gilbert was expelled from the congregation, going on to form, with several others, the First Baptist Free Church. Now known as the Tremont Temple, it was the first integrated church in this country. The Beacon Hill church eventually did take a stance against slavery and hosted such well-known abolitionist speakers as anti-slavery and women's rights advocate Sojourner Truth, publisher William Lloyd Garrison, lawyer and orator Wendell Phillips, former slave and famed statesman Frederick Douglass, Underground Railroad hero Harriet Tubman and U.S. Senator Charles Sumner.
A growing black population in the post-Civil War era led to the purchasing of the Charles Street edifice by the largest black congregation in Boston. In 1876, the building thus became the African Methodist Episcopal Church (A.M.E.), which remained at this location until 1939, when it moved to its current home in Roxbury. That year, the church was sold to the Charles Street Meeting House Society and served, briefly, as an Albanian Orthodox church and later as a Unitarian church from 1949 to 1961. A private owner took charge in 1980 under the provision from then-owner Society for the Preservation of New England Antiquities that a dedication to historic preservation would be observed. A few years later, an award-winning restoration process that divided the interior into a mix of office and retail space was completed. Current tenants include the acclaimed Tatte Bakery & Café (70 Charles St., 617-742-5415, tattebakery.com).
Today, the Charles Street Meeting House, listed on the National Register of Historic Places, is a stop on the Black Heritage Trail, which features 13 other sites and is overseen by both the nearby Museum of African American History (refer to listing, page 22) and the National Park Service. Park ranger-guided tours, although closed for the season, can be requested by calling 617-742-5415. Self-guided tour information can be obtained at the museum's Abiel Smith School building at 46 Joy Street.