A Peek at the Past: South Boston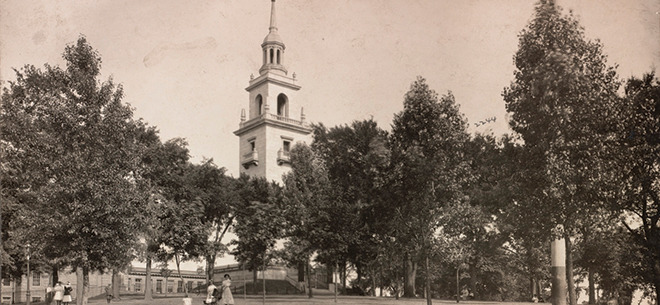 Photo: Courtesy of Boston Public Library
What was once a series of hills connected to neighboring Dorchester by a peninsula and now famed as the Hub's bastion of Irish-ness, South Boston—or Southie, as most locals affectionately call it—has rightfully earned a place in the cultural consciousness. The evolution of this neighborhood nestled between the South End, Downtown and the Atlantic Ocean, however, is a truly remarkable story.
Like many Boston neighborhoods, a great deal of what we know today as South Boston was built on landfill. Back in the colonial days, however, there was simply Dorchester Neck, which connected the hills known as Dorchester Heights to Dorchester, another Boston neighborhood that, like South Boston, was once a separate community. Dorchester Heights was a strategic location during the Siege of Boston, a key moment of the American Revolution. It was here that George Washington and his army positioned a battery of cannons, thus forcing the British from Boston Harbor on March 17, 1776. Today the site is marked by a monument (pictured) and that date is celebrated citywide as the holiday Evacuation Day. Another colonial era site is Castle Island. Now connected to the mainland, it was the spot where Castle William, a fort housing British troops, once stood. That military structure was eventually replaced by Fort Independence, the historic remnants of which can still be visited today.
It was after the colonial period that South Boston, due to the aforementioned landfill projects, truly began to take shape. Dorchester Neck was annexed to Boston in 1804, and Dorchester Heights was partially excavated to provide raw material to expand the city. The 19th century was also when masses of Irish immigrants made Boston their home, a phenomenon which laid the foundation of South Boston's Irish character.
In recent decades, the image of South Boston has been shaped by many positive and negative forces. In the 1970s, the area was at the epicenter of the turmoil over efforts to desegregate Boston schools by busing children outside of their neighborhoods, which many South Boston residents opposed. South Boston was also the stomping grounds of the now-jailed gangster James "Whitey" Bulger. Southie became even more famous, however, as the setting of such films as Good Will Hunting. Over the last 10 years, the gentrification of South Boston's residential areas—as well as the rapid development of the Seaport District and Fort Point neighborhoods—has dramatically changed the makeup of Southie, which is now home to some of the hottest eateries in the city, as well as marquee attractions like the Institute of Contemporary Art and the Boston Convention & Exhibition Center.