High 5: South End Bakeries
These home-grown shops have breakfast and lunch covered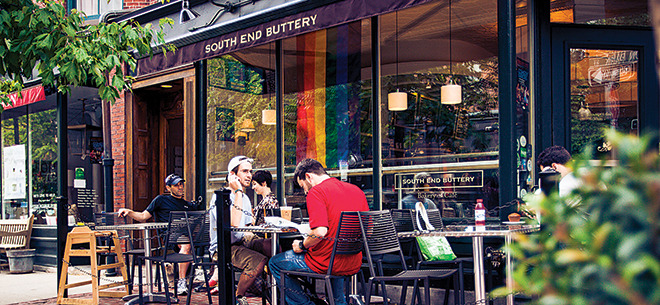 Photo: Carl Tremblay
Flour
(1595 Washington St., 617-267-4300,
flourbakery.com
): Joanne Chang's local bakery empire started here.
South End Buttery
(312 Shawmut Ave., 617-482-1015, pictured; 37 Clarendon St., 617-482-1015;
southendbuttery.com
): Two locations offer Equator Coffees & Teas, cupcakes, small-batch ice cream and more.
The Wholy Grain
(275A Shawmut Ave., 857-277-1531,
wholygrain.com
): Tucked away in a residential area, this bakery features its signature Wholy Bowls, a hot-and-wholesome, gluten-free combo of rice, beans, avocado and spices.
Café Madeleine
(517 Columbus Ave., 857-239-8052,
cafemadeleineboston.com
): This French-themed patisserie boasts La Colombe coffee and plenty of buttery baked goods.
Appleton Bakery + Cafe
(123 Appleton St., 617-859-8222,
appletoncafe.com
): Enjoy the latte of the day, fresh sandwiches, breakfast burritos, pastries and friendly service.