A Peek at the Past: Frederick Law Olmsted National Historic Site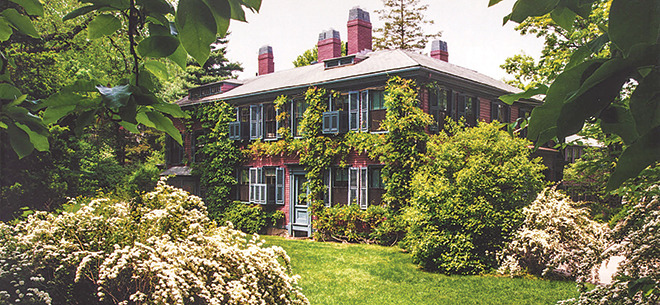 Photo: National Park Service/Olmsted National Historic Site
Frederick Law Olmsted has long been considered the father of landscape architecture in this country, and nowhere is his influence more apparent than in the bucolic splendor that is Boston's Emerald Necklace park system. Although not a native Bostonian, Olmsted certainly left his mark on the Hub, and even moved his business here in 1883. As prominent as of some of his designs—from Jamaica Pond to Arnold Arboretum to Franklin Park—are, there is one perhaps overlooked landmark in nearby Brookline that is worth the attention of anyone interested in Olmsted's legacy.
Born in Hartford, Connecticut in 1822, Olmsted first established himself as the preeminent creator of urban green spaces when his design for the nascent Central Park in Manhattan, created in collaboration with British-born architect Calvert Vaux, was chosen in 1858. Olmsted served as the chief architect of that project from 1858–1861. After a few career detours that took him as far as San Francisco, Olmsted returned to New York City to partner with Vaux on several more projects.
Olmsted began work on what would become known as Boston's Emerald Necklace in the 1870s. The city consulted Olmsted—who created the designs and chose the sites along the Muddy River, Jamaica Pond and into Roxbury—regarding the creation of a long-desired series of linked green spaces that would act as oases, reconnecting people with nature in an increasingly urbanized environment. As the endeavor proceeded, Olmsted relocated to Brookline in 1883 in order to see his work to fruition.
Olmsted's home, dubbed Fairsted (99 Warren St., 617-566-1689), also housed his business—consisting of Olmsted, his sons and like-minded partners—which is regarded as the first full-scale professional office dedicated to landscape design. Olmsted himself passed away in 1903, but his firm continued here for decades under the auspices of his successors. The home was purchased by the National Park Service in 1979, and it still houses many of the plans created by Olmsted and his associates. Visitors to Fairsted can explore the grounds and take tours on Fridays and Saturdays from 9:30 a.m.–4 p.m. Tour times are at 10 and 11 a.m., and 1, 2 and 3 p.m. For more information, visit nps.gov/frla/index.htm.