A Peek at the Past: Tremont Temple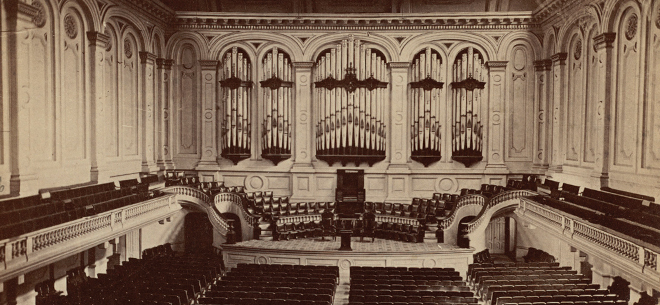 Photo courtesy of Boston Public Library
February is Black History Month, and the Hub has plenty of significant locales to explore, including the 14 sites of the Black Heritage Trail. Although not on the path that winds through Beacon Hill, the nearby Tremont Temple—located at 88 Tremont St. and formally known as the Tremont Temple Baptist Church—ranks as an important structure relating to Boston's legacy as a bastion of the anti-slavery movement.
In 1836, abolitionist Timothy Gilbert, a member of Beacon Hill's Charles Street Baptist Church, invited a few black friends to sit with him in his pew, resulting in his expulsion from the then-segregated house of worship. In 1838, Gilbert and some like-minded men established what was initially known as the Baptist Free Church, in reference to its opposition to the common practice of charging rent for pews as well as its status as the first integrated church in the country.
The church didn't begin its connection with Tremont Street until 1843, when it purchased the Greek Revival-style Tremont Theatre. The structure wasn't just used for religious purposes, as it also hosted public events over the years—including Charles Dickens' first reading of "A Christmas Carol" and "The Pickwick Papers" in the U.S. in 1867 and the first reading of the Emancipation Proclamation in Boston in 1863—and several stores on the ground floor, the rent from which helped pay the church's expenses.
A series of fires at the location in 1852, 1879 and 1893, however, eventually led to the erecting of the current, larger edifice in 1896. Designed in an ornate, Renaissance Revival style by famed architect Clarence Blackall, the building became a local landmark, and, until recently, continued to host non-church events in its spacious auditorium, including film screenings, opera and, for many years, the popular Boston production of Langston Hughes' Black Nativity during the holiday season.
Today, Tremont Temple remains an active house of worship. Its main service takes place on Sundays at 10:30 a.m. For more information, visit tremonttemple.net.