Boston Accent: Building Excitement
Megan Amaral, master model builder at Legoland Discovery Center Boston, crafts Star Wars-themed fun for school vacation week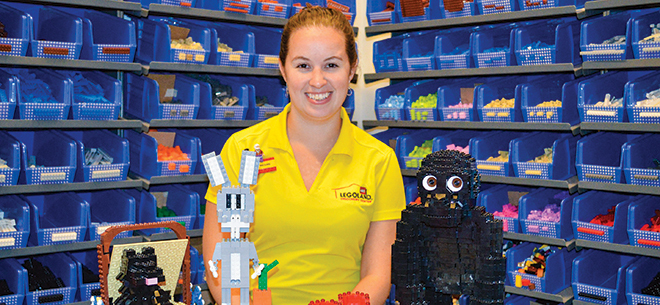 Megan Amaral has the kind of job that most children (and many adults) merely dream about. Amaral, a Massachusetts native with an architecture degree and a life-long love for building with Lego, is a master model builder at Legoland Discovery Center, the activity-filled, family-friendly destination at Assembly Row in Somerville, Mass., filled with literally millions of Lego bricks. The journey was not easy; the competition for this position is fierce. Yet through continued dedication and participation in multiple contests, Amaral attained it, and now she spends her days exploring the endless possibilities of Lego's entertaining construction system.
"I love solving problems," Amaral explains. "Every Lego project I undertake is a problem waiting for a solution." Her duties as a master model builder include teaching classes and constructing projects that complement the center's thematic programming. For example, she is currently designing a Lego-brick Olympic logo display to celebrate South Korea's 2018 Winter Olympics.
Like children across Greater Boston, Amaral is excited for February's school vacation week (February 19–25), which coincides with a Star Wars extravaganza at Legoland. A Star Wars-themed Miniland (intricate models that can take months—or even years—to build) are on view starting February 10. This model features scenes from Star Wars Episode II: Attack of the Clones, and includes iconic characters Anakin Skywalker, Boba Fett and more. "As a Star Wars fan, I'm very excited about this display," says Amaral. "The Star Wars world lends itself to Lego very well." Amaral is also orchestrating a Star Wars "invasion" of the permanent Boston Miniland, which involves a scavenger hunt for the franchise's characters hidden among iconic Boston landmarks. Kids are also invited to help construct a large mosaic mural depicting a Star Wars-themed surprise that will be revealed as the mural progresses.
If the center's impressive Minilands, entertaining rides and hands-on classes inspire you—I mean, your kids—to become a Lego master, Amaral has words of encouragement. "Just keep building and keep challenging yourself.…There is always more than one way to build something. If you find one way, don't stop there. Explore working with new sizes and pieces.…The sky really is the limit."
Legoland Discovery Center