10 Top Spots for Fireside Dining
Boston isn't all snow and chilling winds in the winter. Get cozy by warming up by a roaring hearth at one of these local haunts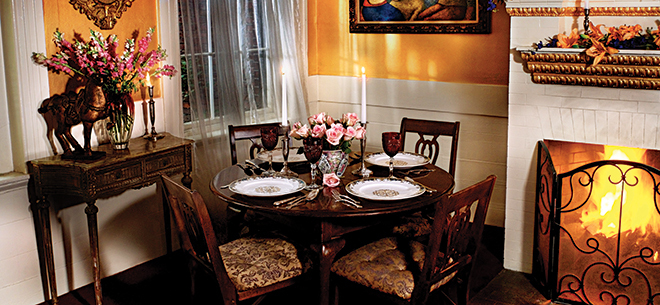 The Hungry i
Multiple fireplaces warm this cozy Beacon Hill hideaway, which features an intimate, below-street-level dining area and a more formal upstairs room (pictured) that both serve traditional French provincial cuisine.
71½ Charles St., 617-227-3524, hungryiboston.com
Tuscan Kitchen
This newcomer to Boston brings the scratch-made cuisine of sunny Italy—not to mention a giant stone fireplace—to the red-hot Seaport dining scene.
64 Seaport Blvd., 617-303-7300, tuscanbrands.com
Pammy's
Italian-influenced cooking and a friendly vibe are the hooks at this hangout near Harvard Square, along with a dual-opening fireplace clad in imported ceramic tile.
928 Massachusetts Ave., Cambridge, 617-945-1761, pammyscambridge.com
Post 390
The downstairs tavern room at this modern American eatery boasts a four-sided fireplace, while the more sophisticated upstairs room also offers fireside dining opportunities with a view of nearby Copley Square.
406 Stuart St., 617-399-0015, post390restaurant.com
Legal Harborside
The Legal Sea Food empire's flagship location on Boston Harbor boasts two fireplaces—one on the formal second floor space (tip: ask for table 407 for the best spot) and another on the roof deck, which offers a lounge atmosphere and a retractable roof and walls, along with 27 wines by the glass and pitchers of cocktails.
Liberty Wharf, 270 Northern Ave., 617-477-2900, legalseafoods.com
Il Molo
Sink into a comfy chair next to the fire at this North End haunt for a warming cocktail, bowl of chowder and some Italian-style seafood.
326 Commercial St., 857-277-1895, ilmoloboston.com
River Bar
Outdoor dining in the winter? It's possible here, thanks to roaring fire pits and a partially enclosed, heated bar area.
661 Assembly Row, Somerville, 617-616-5561, river-bar.com
Tapestry
The dual-concept restaurant's tropical-themed Club Room features a central fireplace and a chill atmosphere for dining and imbibing.
69 Kilmarnock St., 617-421-4470, tapestry.restaurant
Oleana
As one of the top tables in the Boston area, Ana Sortun's acclaimed Turkish/Middle Eastern-inspired establishment is certainly a big draw on its own. Add a gas-fired, cast-iron stove, however, and you have one in-demand eatery this winter.
134 Hampshire St., Cambridge, 617-661-0505, oleanarestaurant.com
The Lodge at Publico
Southie's Publico Street Bistro & Garden transforms its courtyard into a ski lodge every Friday and Saturday through March with the addition of alpine-themed decor and a fire pit while serving hot drinks and a special menu of comfort food favorites.
11 Dorchester St., 617-622-5700, publicoboston.com