A Peek at the Past: Old State House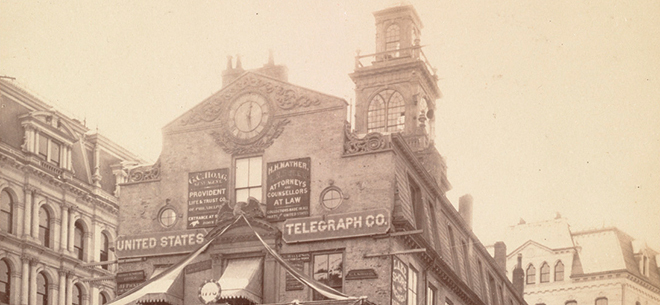 Photo: James Wallace Black, 1876/Courtesy of Boston Public Library
Once hailed as one of the most important public buildings from America's Colonial Era by the National Park Service's National Historic Landmarks Commission, the Old State House is the oldest such edifice in the city. Dating from 1713, it was, pre-American Revolution, known as the Town House—after all, Boston wasn't officially a city until the early 19th century—and served a variety of vital functions for the nascent metropolis.
The Town House—a place where the colonial government for the Massachusetts Bay Colony housed its offices—was the second such structure to sit on that same spot of what was once known as King Street. The original wooden Town House, completed in 1658, was destroyed by a fire in 1711. The "new" building, facing what was formerly the Boston waterfront, boasted on its upper floor a large chamber in which countless speeches and debates were held by a number of prominent citizens, as well as meeting rooms for the Massachusetts Assembly and Supreme Judicial Court (originally called the Superior Court of Judicature), and even had commercial space on the lower floors for local merchants.
In 1761, one of the most momentous speeches against the British Writs of Assistance—which allowed warrant-less authorization to search private properties—was given by Boston lawyer James Otis, spurring none other than Founding Father John Adams to remark, "Then and there, the child Independence was born." Another seminal event leading up to the revolution—the Boston Massacre (refer to story, page 6)—took place just outside the Town House walls on March 5, 1770.
Following America's independence, the Town House became the State House, home to the Massachusetts Legislature, until the new State House was completed on Beacon Hill in 1798. Beginning in 1830, it served for a time as Boston City Hall—Boston officially became a city in 1822—and later housed a variety of businesses as it fell into a state of disrepair.
Slated for demolition by the City Council, Boston was shamed by the City of Chicago, who offered to buy the building and reassemble it in its Lincoln Park, into preserving it, a process which began in 1882. That same year, the nonprofit Bostonian Society assumed the responsibility of maintaining the Old State House and operating it as a museum of local history, a function which it still serves to this day.