A Peek at the Past: The Green Monster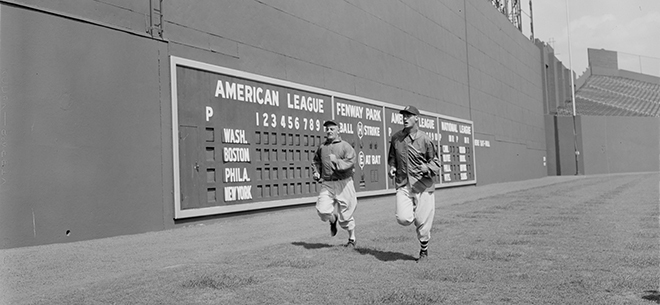 Photo: Courtesy of the Boston Public Library/Leslie Jones Collection
Fenway Park, home to the Hub's beloved Boston Red Sox, has stood as a temple to sports since its debut in 1912. One of its most famous icons is the unique, 37-foot-high wall in left field, which is affectionately known as the Green Monster. What some may not know, however, is that the colorfully nicknamed structure was not an original feature, and has experienced as dramatic an evolution as any part of this popular pilgrimage spot for baseball fans worldwide.
Well before such Hall of Famers as Ted Williams (pictured, above right, in 1950), Carl Yastrzemski and Jim Rice patrolled the area in front of the Green Monster, Duffy Lewis was the man making plays in left field. Not long after Fenway opened, the area was dubbed "Duffy's Cliff," due to the 10-foot incline in front of the original, 25-foot wooden wall. During that inaugural season, the Sox made and won the World Series; temporary seating was even constructed in left field in front of the outfield wall to accommodate the enthusiastic crowds.
After the 1933 season, Duffy's Cliff was leveled by new owner Tom Yawkey, and the pre-cursor to today's Green Monster was constructed, featuring a concrete base and wood frame covered in tin. It also boasted baseball's first electronically operated scoreboard, as well as a manually operated scoreboard similar to the one still in place today. One of the Monster's most prominent quirks debuted in 1936: a ladder, which remains to this day, was attached to help groundskeepers retrieve hard-hit balls from the 23-foot net on top of the wall that protected the businesses on Lansdowne Street. This version of the wall was covered in advertisements, a practice which was banned in 1947 (only to return in 2003) when the span was painted in Dartmouth green to match the rest of the park, thus earning its familiar moniker.
Other improvements to the wall came slowly over the years. Prior to the 1976 season, the Green Monster was rebuilt with modern materials to ensure more consistent caroms off the wall from batted balls, the electronic scoreboard was removed, the manual scoreboard was moved toward center field and padding was added to the lower portion. The final major addition happened in 2003, when the barstool-style Monster Seats were added to the top of the wall, replacing the now-obsolete netting.