A Peek at the Past: Union Square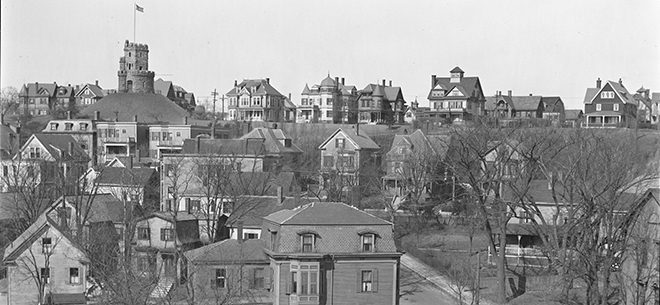 Photo: Union Square, 1923, courtesy of Boston Public Library, Leslie Jones Collection
One of the most significant locations related to the Revolutionary War in the Boston area is also the home of that era's most under-the-radar historic site. Union Square is a bustling, ever-growing neighborhood in Somerville, a small city to the north of Cambridge and west of Charlestown. It is here that visitors can find Prospect Hill, where Colonial forces built a critical fortification in 1775 during the Siege of Boston and later, upon the orders of George Washington himself, raised what is claimed to be the first flag of the burgeoning American republic.
Originally called Sand Pit Square when it was part of Charlestown, dubbed Liberty Pole Square in 1853 when such a structure was raised by anti-slavery firefighters and then re-named during the Civil War to honor the North's cause, Union Square first gained prominence when soldiers from the Battle of Bunker Hill, along with other incoming fighters, constructed what became known as the "Citadel." This stronghold served as an important bulwark against British advance, helping to contain them until the Continental Army expelled the redcoats in March 1776. The aforementioned, morale-boosting raising of what was known as the Grand Union Flag took place two months before that, on January 1, 1776.
In the following century, the previously rural locale—which was incorporated into the newly formed town of Somerville in 1842—experienced incredible residential and commercial expansion, causing concern amongst history-minded citizens who wanted to preserve the desirable, rapidly developing Prospect Hill. Efforts to create a park and monument at the top of the hill were finally realized when a 42-foot stone tower (pictured above, top left) was dedicated in 1903. Due to deterioration during the 20th century, however, construction to restore the park and memorial to its previous glory are currently underway.
Today, despite a downturn in circumstances during the last century, Union Square is once again a hot property. Re-purposed industrial and railroad property has given rise to many new businesses nearby, including the acclaimed Taza Chocolate and Somerville Brewing Company (aka Slumbrew). Restaurants, music venues and gourmet bakeries such as Union Square Donuts have also taken hold alongside longtime favorites like The Neighborhood, a popular breakfast and lunch spot. Union Square even hosts one of Greater Boston's most unusual celebrations, the What the Fluff? festival, held in recognition of the marshmallow treat's invention in the area in 1917. The latest development to make a splash is the recently opened Bow Market (refer to listing, page 28), which houses everything from arts and crafts dealers to a record shop to a brew pub, all around a central courtyard. On top of this, the MBTA's proposed Green Line extension is expected to bring a new public transit station, likely leading to further growth.