A Peek at the Past: Revere Beach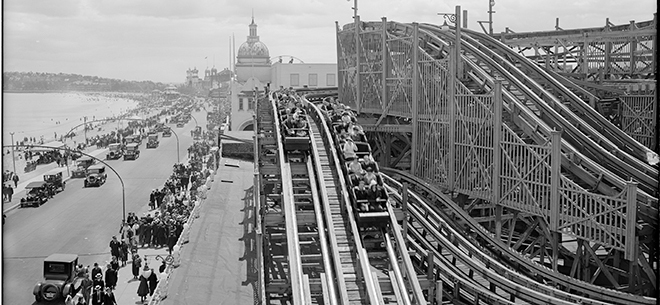 Photo: Leon H. Abdalian/July 25, 1920
America's oldest public beach, established in 1896, is a 4.5-mile crescent-shaped stretch in the city of Revere, just a few miles north of downtown Boston. Many longtime Bostonians fondly remember this area as a major summer attraction, yet it wasn't just for the sun and sand. Once upon a time, this was one of the country's premier leisure destinations.
Formerly private land taken by eminent domain, Revere Beach Reservation was designed by Charles Eliot, a disciple of famed landscape architect Frederick Law Olmsted. Due to easy rail access, the already popular coastline quickly developed with restaurants, dance and music halls, hotels, cinemas and amusement parks. Some of the grandest roller coasters in the nation once graced the shore, and the pioneering, short-lived Wonderland Park allegedly served as an inspiration for Disney's theme parks.
Over the course of the latter half of the 20th century, however, the heyday of Revere Beach as an entertainment epicenter gradually came to an end. Famed eateries like Kelly's Roast Beef remain, as does the now-National Historic Landmark beach, yet thrilling rides like the Cyclone, the Lightning and Dragon Gorge are long gone, replaced by high-rise housing after the infamous Blizzard of '78 provided the final blow to the area's amusement infrastructure.
An extensive renovation in the 1980s, though, restored the beachfront area, if not the roller coasters, and today it remains a warm-weather respite for visitors and locals alike. Increased community activity and events, including the Revere Beach International Sand Sculpting Festival, have also made this sandy oasis a fun summer spot yet again.