High 5: Beaches
Take the T to experience fun in the sun at these seaside urban oases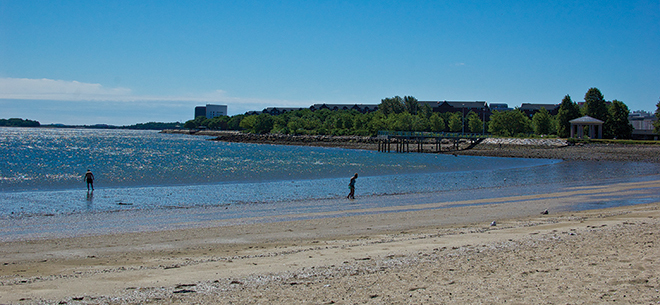 Photo: Lizz Scannell
Carson Beach (William J. Day Blvd., 617-727-5290, mass.gov/locations/castle-island-pleasure-bay-m-street-beach-and-carson-beach, pictured): Part of a three-mile stretch of South Boston facing Dorchester Bay, this popular respite is connected to historic Castle Island, M Street Beach and Pleasure Bay and is not far from the Red Line's JFK/UMass stop.
Wollaston Beach (Quincy Shore Drive, Quincy, 617-727-5290, wollastonbeach.org): Situated in the city just to the south of Boston, Wollaston is part of Quincy Shore Reservation and is flanked by woodland trails to the north and fields, a playground and salt marsh to the south. The area's dedicated MBTA station on the Red Line is closed for renovations, but shuttle buses run from both North Quincy and Quincy Center stations.
Constitution Beach (799 Bennington St., East Boston, 781-485-2804 ext. 105, mass.gov/locations/constitution-beach-park): This man-made hidden gem overlooking Logan Airport boasts a playground, snack bar, athletic fields and a nearby skating rink, and is a short walk from the Blue Line's Orient Heights stop.
Revere Beach (Revere Beach Boulevard, Revere, 781-485-2803, reverebeachpartnership.com): Established in 1896, America's first public beach is just a few miles north of Boston and is easily reached via the Blue Line's Revere Beach station.
Savin Hill/Malibu Beach (68 Denny St., Dorchester, 617-727-5290, mass.gov/locations/savin-hill-and-malibu-beach): These connected beaches off I-93, just a brief jaunt from the Savin Hill stop on the Red Line, abut a playground, a park and the Dorchester Yacht Club.