10 Top Ways to Celebrate Halloween in Boston
The Hub can be one eerie city this time of year. Get in the spirit with these spooky (and sometimes silly) sites, tours and events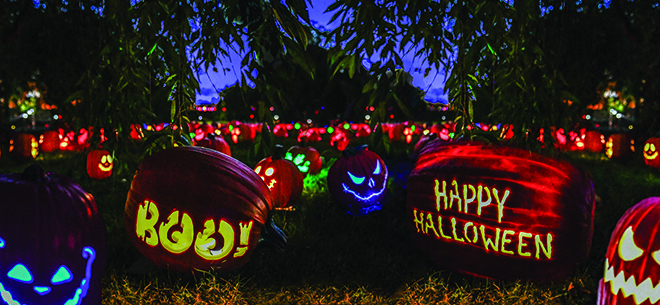 Jack O' Lantern Journey
Thursday to Sunday through November 4, enjoy creatively carved pumpkins at the Franklin Park Zoo, where a timed ticket allows gourd aficionados entry to a wonderland of themed displays, including live carving demonstrations and seasonal food and beverages at the end of the trail.
One Franklin Park Road, Franklin Park, 617-541-LION, zoonewengland.com
Boston By Foot
This non-profit tour company offers its annual Beacon Hill with a Boo! excursion on October 31 at 6 p.m., where strollers can learn about the dark side of the city's toniest neighborhood while enjoying its seasonal charm.
617-367-2345, bostonbyfoot.org
Costume Dash 5K
For those who enjoy the silly as much as the spooky, there's this fun event on October 27 at 9 a.m., which pits participants in a race from Copley Square to Boston Common and ends with a costume contest and pub crawl.
Freedom Trail Lantern Tours
Explore the dark side of one of the city's most prominent attractions with a costumed guide who reveals tales of crime, murder and demonic possession every Thursday and Saturday night through October 27.
617-357-8300, thefreedomtrail.org
Pets on Parade
Have a hankering to dress up your pet as well as yourself this Halloween season? Then check out the Halloween Pet Parade & Costume Contest at Faneuil Hall Marketplace on October 27 and the Doggone Halloween Costume Parade at Downtown Crossing on October 29.
Faneuil Hall Marketplace, 617-523-1300, faneuilhallmarketplace.com; Downtown Crossing, Summer Street between Washington and Hawley streets, downtownboston.org
Ghosts & Gravestones
On this nighttime trolley tour, a ghoulish guide digs up the secrets of Boston's burying grounds and other haunted sites.
200 Atlantic Ave., 866-754-9136, ghostsandgravestones.com
Haunted Boston Ghost Tours
Centered on and around Boston Common, this spirited, family-friendly jaunt weaves ghastly tales based on historical facts.
617-401-0520, hauntedboston.com
Haunted Halloween at Hammond Castle
For six nights in October, this 1920s-era North Shore attraction transforms into a scary spectacle.
80 Hesperus Ave., Gloucester, 978-283-2080, hammondcastle.org
Salem Haunted Happenings
Take a trip to Witch City to experience this ultra-popular, multi-faceted and month-long celebration of all things spooky. Parades, ghost tours, costume parties, seances, haunted houses and more are all lurking just 16 miles north of Boston.
978-744-3663, hauntedhappenings.org
Ghost Ship Harbor
Board the USS Salem in nearby Quincy Friday–Sunday nights (plus October 18 & 25, November 2 & 3, and, of course, October 31) to get the fright of your life on the decks of this historic cruiser. Several different immersive scenarios are available, as well as a new virtual reality experience.
549 South St., Quincy, 617-935-0444, ghostshipharbor.com