A Peek at the Past: First Spiritual Temple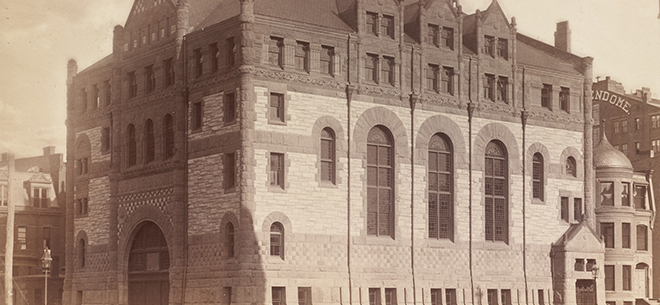 Photo: c. 1885, courtesy of Boston Public Library
The Halloween season—when ghosts and the supernatural are in the thoughts of many—is the perfect time to exhume the history of one of the Back Bay's more intriguing structures: The First Spiritual Temple.
Located at the corner of Newbury and Exeter streets (26 Exeter St., to be exact), this beautifully detailed Richardsonian Romanesque building was one of the few houses of worship erected to shelter members of the Spiritualist movement. Inspired in the 1840s by sisters Kate and Margaret Fox in the Rochester, N.Y. area, Spiritualism is the belief that not only do the dead live on in spirit form, but they can also be contacted with the help of a medium. The movement reportedly boasted nearly 8 million adherents at its peak before petering out after the 1920s.
Funded by the wealthy Spiritualist Marcellus Seth Ayer and completed in 1885, the temple—a grand gathering place given the normally informal nature of the movement—was home to local believers for decades. Using a design crafted by noted theater architect Clarence Blackall, the main sanctuary was converted into a cinema known as the Exeter Street Theatre, however, in 1914 when church attendance began to decline. Boston Spiritualists still maintained ownership of the edifice, and continued to meet in a lower auditorium while simultaneously operating the theater until the building was sold in 1974. (The congregation, which still exists, moved to Brookline for many years before settling in Cape Cod.) The glass-canopied restaurant space facing Newbury Street just below street level was added around this time.
Film screenings—including late-night runs of the cult phenomenon The Rocky Horror Picture Show—were reinstituted under the new ownership until 1984, when the interior was transformed into a retail space, first for a seller of furniture and then a multi-story bookstore. A fire damaged the restaurant and bookseller in 1995, necessitating further alterations and restoration, but the locale's days as a shopping destination ended when the store closed in 1999. Offices moved in for a short stretch before the building was eventually occupied by the Kingsley Montessori School (kingsley.org), who have resided in the majority of the structure since 2006. No word on whether séances are part of the curriculum.