A Peek at the Past: Boston Wine Festival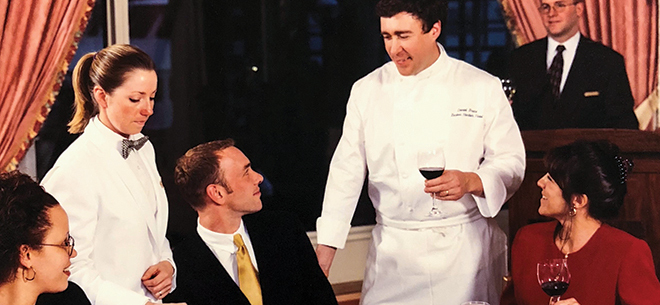 Entering its 30th year, the Boston Wine Festival is one of the oldest events of its kind in the country. Hosted by the majestic Boston Harbor Hotel and executive chef and founder Daniel Bruce (pictured above, middle, in 2000), this grand celebration of food and wine is one of the most anticipated happenings on local oenophiles' calendars every winter.
When Bruce was hired by the hotel in 1989, he immediately sought to craft an event to highlight his unique approach to matching different varietals with his cuisine. Consisting of 11 wine dinners designed to lure Bostonians out into the frigid New England weather when launched in 1990, the inaugural Boston Wine Festival was a sell-out success. The extravaganza has since grown from these handful of food and wine pairing feasts into a three-month marathon with dozens of events that attract prestigious winemakers from across the globe to share their passion for the grape with both new and veteran vino lovers alike. Famed wineries and regions in France, Spain, Italy, South Africa, Australia, New Zealand, Oregon and California have been represented over the years, and tickets to such popular, perennial gatherings as the Battle of the Cabernets (a staple since the second year) and the nearly 20-year-old Meritage Madness disappear year after year.
From the Grand Opening Reception January 11 to gatherings later in the season like February 15's Uncorked for a Cause fund-raiser for Share Our Strength—hosted by renowned designer and television host Taniya Nayak—and the Valentine's Dinner Dance on February 16 to the final dinner on March 29, this year's edition features 33 dinners, five seminars, two receptions and one fabulous champagne brunch. Whether you're into rich reds, crisp whites or delightful bubbly, there's truly something for every palate at the Boston Wine Festival.