A Peek at the Past: Bunker Hill Monument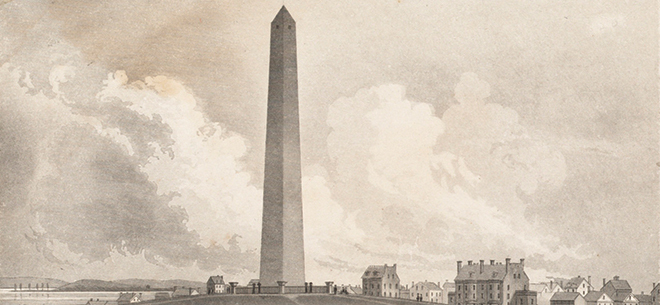 Bunker Hill Monument, 1848, courtesy of Boston Public Library
One of Boston's most prominent landmarks and a reminder of the city's revolutionary history, the Bunker Hill Monument has been a fixture in Charlestown since 1842. Far from a tribute to a great victory, however, the granite obelisk on top of Breed's Hill does, in fact, mark the site of a defeat in a nascent nation's fight for freedom.
Due to reasons that remain in dispute to this day, the Battle of Bunker Hill was not fought on Bunker Hill. Regardless, the name stuck after the rebels' skirmish against British troops on June 17, 1775 inflicted great losses on the side of the redcoats, giving hope to the losing side's cause. This early conflict in the American Revolution resulted in the creation of many martyrs and heroes—including the beloved Dr. Joseph Warren, who was killed on that fateful day—whose deeds passed into legend in the subsequent decades.
The first monument on Breed's Hill, erected in 1794, was a wooden pillar and urn placed in remembrance of Warren. In 1823, a citizen's group determined to create a more substantial memorial formed. Although the Marquis de Lafayette himself set the cornerstone in 1825, lack of funding led to construction being interrupted on two separate occasions. The 221-foot structure was finally dedicated on June 17, 1843, several months after it had been completed. A statue of Warren from the 1850s is housed in a nearby lodge, while a statue of war hero Colonel William Prescott was dedicated outside the monument in 1881.
The Battle of Bunker Hill is further honored by the Suffolk County holiday known as Bunker Hill Day every June 17. This year, a parade through Charlestown takes place the day before that, on June 16 beginning at 12:30 p.m.