Boston Accent: Labor of Love
Culinary director Dell Leandro touts Jasper White's Summer Shack's dedication to serving great seafood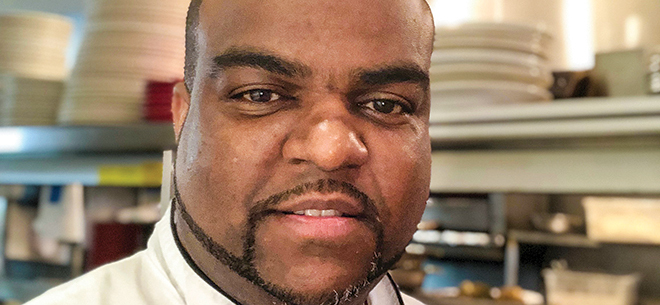 When Dell Leandro, Culinary director for Jasper White's Summer Shack, says that he loves what he does, you can take him at his word. He started at Summer Shack 19 years ago, about six months after the restaurant debuted in Cambridge's Alewife area. Beginning in the pantry and quickly working his way from fish preparation to quality control and then the sauté station ("My first day was not pretty," he humbly admits), he learned different facets of the business while also discovering his affinity for the kitchen. "Cooking, it's truly a passion," he states.
In his current role, Leandro is still responsible for quality control, while adding employee training and development of menu specials to his list of duties, all while keeping an eye on costs. His most important duty, however, is to "create and cultivate new talents." In a way, he's just returning the favor. "I would never be a director if it wasn't for the support I had from the Summer Shack."
Speaking of which, Leandro proudly proclaims that "our oysters are amazing and fresh. Scallops, lobsters and clams are all sourced locally." Indeed, Summer Shack has become famous over the years for its wide selection of regional oysters, as well as coveted menu items like the clambake, a classic mix of steamed lobster, mussels, clams, corn, potatoes, egg and chouriço, a kind of Portuguese sausage. The eatery's signature dish, however, remains the pan-roasted lobster with bourbon, chives, chervil and lemon butter, which Leandro describes as "an experience." When the goal is to serve the freshest of the ocean's bounty, though, there are always surprises in store, even for repeat visitors. "Our menu changes daily and the chefs have a lot of freedom to be creative." And if you or one of your guests aren't into seafood? Leandro recommends the fried chicken. "It's the best I've ever tasted. Truly!"
There is no lack of options for seafood in the Boston area, yet, as Leandro touts, "The Summer Shack experience, it's unique. New England seafood is among the best in the world, and that's what we do." As he also points out, Summer Shack's "mantra" is "Food is love." For Leandro, it's obvious that the love starts in the kitchen.