10 Best Bets for Halloween Fun
Embrace the macabre, the delightful and everything in between during the Hub's spookiest time of year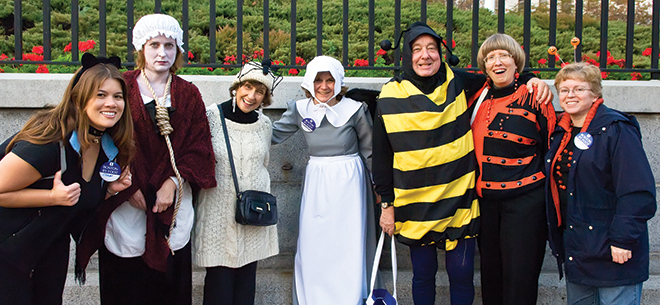 Beacon Hill with a Boo!
The non-profit tour company Boston By Foot celebrates Halloween with its 30th annual excursion (pictured) into the Hub's Brahmin bastion for sightseeing and scary stories of the neighborhood's dark underbelly on October 31 from 6–7:30 p.m.
617-367-2345, bostonbyfoot.org
Zoo Howl
The Franklin Park Zoo hosts this family-oriented event featuring trick-or-treating for the kids, as well as special treats for the animals, on October 26 & 27.
1 Franklin Park Rd., 617-541-LION, zoonewengland.org
Celebrate Halloween!
From October 27–November 1, Boston Children's Museum allows costumed kids and their grown ups to trick-or-treat for non-candy items among the exhibits.
308 Congress St., 617-426-6500, bostonchildrensmuseum.org
Haunted Boston Ghost Tours
Centered around Boston Common, this family-friendly, 90-minute jaunt acquaints attendees with creepy, fact-based stories of ghosts, witches and the city's often unnerving history.
617-401-0520, hauntedboston.com
Halloween Pet Parade and Costume Contest
Experience the cuter side of the season on October 26 from noon–2 p.m. when Boston's historic shopping center along the Freedom Trail hosts this fun competition for furry friends and their owners.
Faneuil Hall Marketplace, 617-523-1300, faneuilhallmarketplace.com
Ghosts & Gravestones
This terrifying trolley tour, led by a frightening cast of characters, recounts tales of grisly crimes and otherworldly occurrences.
866-754-9136, ghostsandgravestones.com/boston
Freedom Trail Lantern Tours
The Freedom Trail Foundation reveals the dark side of Hub history on Thursday and Saturday evenings through October 31.
617-357-8300, thefreedomtrail.org
Costume Dash 5K
Part road race, part costume contest, this zany tradition taking place October 26 on a new course along the Charles River Esplanade is all fun.
Salem Haunted Happenings
Witch City comes alive in October with a slew of eerie events all across this easily accessible city just 25 miles north of Boston. Indulge in ghost tours, haunted houses, seances, cruises, costume parties and more while enjoying family-friendly fun—from parades and magic shows to street fairs and trick-or-treating—all month long.
Hammond Castle Museum
This 1920s-era, medieval-style structure on the North Shore gets scary on weekends beginning October 11 when its Halls of Darkness Fears and Phobias haunted maze takes over, while a more kid-centric trick-or-treat event takes place October 30 from 3–5 p.m.
80 Hesperus Ave., Gloucester, 978-283-2080, hammondcastle.org