Boston's Extended Outdoor Dining Season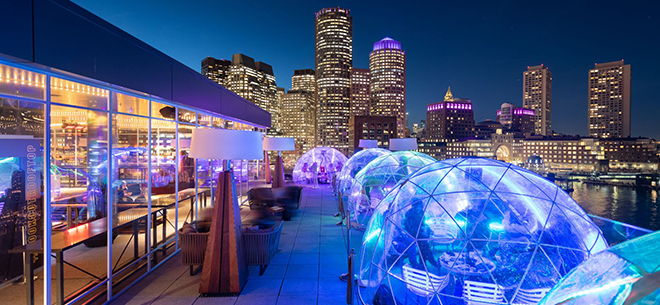 Highlighting outdoor dining this time of year is something that we never imagined we'd be doing—yet then again, there are a lot of unique situations to which we've all had to adjust this year. As al fresco noshing expanded out of necessity as restaurants began to slowly re-open this past summer, so has the length of the usual outdoor dining season been stretched into the cooler months. As a service to help guide hungry diners through the sea of heated, tented and fire-pitted patios, here is a neighborhood-by-neighborhood selection of some of the best options for safely supping in the fresh—not to mention increasingly brisk—air.
Back Bay
Vancouver-based Earls Kitchen + Bar opened its location at the Prudential Center in 2017, and, presciently, included an outdoor courtyard with a retractable roof, perfect for enjoying a burger and a cocktail even in colder weather. Also in the vicinity is Jody Adams' Mediterranean standout Porto, which has a covered and heated terrace. Longtime romantic standout Casa Romero continues to serve its outstanding Mexican fare on its cozy patio hideaway, while wine bar and Italian eatery Piattini has received accolades for its COVID-19 procedures as well as its newly heated patio on tony Newbury Street. Also on Newbury Street, La Voile serves authentic French fare al fresco, while one of the Back Bay's most famous and spacious patios at Stephanie's on Newbury remains as active as ever, serving heaping helpings of gentrified comfort food on its tree-lined confines. On Commonwealth Avenue, Jason Santos' take on Southern cuisine, as well as great (and heated) outdoor dining, can be found at Buttermilk & Bourbon.
South End
Patios, both established and improvised, abound in the South End. Eateries that have outdoor spots falling into the former category include Barbara Lynch's seafood favorite B&G Oysters, hand-made pasta and small plates specialist SRV and Asian fusion and exotic cocktail hot spot Banyan Bar + Refuge.
Fenway
Although two of her establishments are on hiatus as of November 1, celebrity chef Tiffani Faison has other restaurants in this neighborhood that feature outdoor spaces, including barbecue standout Sweet Cheeks Q. The chic, Japanese-inspired hangout Hojoko, from the acclaimed husband-and-wife team of Tim and Nancy Cushman, has extended its outdoor season with heaters and tents on its deck. And Time Out Market, a curated compendium of upscale kiosks from a host of the city's best chefs, continues to serve patrons on its expanded patio.
Seaport/Fort Point
Besides its flagship in the Back Bay, Davio's Italian Steakhouse also boasts a second Hub outpost, an enormous, seaside retreat in the red-hot Seaport District that features a large, picturesque outdoor deck with plenty of heaters. Legal Harborside, the signature location of the Legal Sea Foods empire, offers the freshest catch around on three levels, including two open-air dining options—one on the main level alongside Boston Harbor, and a third-floor lounge with a retractable roof and a fireplace. Roof decks abound in the Seaport, including the one at Yotel Boston, dubbed Deck 12, that sits atop the 12th floor and offers a casual food menu along with cocktails and a 270-degree view of the water and the Downtown skyline. The nearby Envoy Hotel has its own roof deck lounge, Lookout Rooftop (pictured), which has six-person, heated igloos on its patio that are available for two-hour stretches year-round for those that reserve then in advance. The famed red-and-yellow tent at The Barking Crab continues to provide a classic New England clam shack experience right along the Fort Point Channel, while, further down the road, a more modern take on seafood, as well as farm-to-table fare, can be enjoyed at Woods Hill Pier 4, along with patio dining under heated igloos. Fire pits adorn the patio at the Fort Point location of Philadelphia-based gastropub chain City Tap, while a few blocks down, Lolita serves delectable Mexican favorites, margaritas and more on its channel-side terrace.
Charlestown
Not one, but two, patios are available at the beer-focused pub Brewer's Fork. Historic Warren Tavern has added heaters to its outdoor space, while gourmet pizza fave Figs has done the same.
East Boston
Cunard Tavern, a nautically inspired neighborhood hangout offering upscale pub food, has a heated sidewalk space along with a roof deck.
South Boston
Helmed by James Beard Award winner Karen Akunowicz, Fox & the Knife has added patio heaters to its cozy street-side space, the better to enjoy its innovative Italian dishes and handmade pasta as the weather cools. Publico Street Bistro & Garden has a tucked-away garden courtyard with fire pits to keep things warm, while Coppersmith offers diners street-side seating, as well as a roof deck equipped with an Airstream trailer converted into a bar.
Downtown
Faneuil Hall Marketplace has long been a prime outdoor dining destination, and restaurants like Mexican standout Mija Cantina & Tequila Bar and Irish pub fave Ned Devine's continue that tradition. In the Financial District, Bostonia Public House has patio heaters ready to warm up those who sup on its updated takes on New England classics.
North End
This generally cramped Italian enclave allowed eateries to literally spill out onto the street in order to accommodate more diners this summer, yet there are a few old favorites with their own built-in patio spaces. Ristorante Fiore delights diners on both its sidewalk patio and its interior, heated decks featuring retractable awnings, while seafood-focused Mare boasts a year-round outdoor lounge, complete with a retractable roof, fire pits and exquisite skyline views.
West End/North Station
Waterside dining is a rare thing in this neighborhood, yet two establishments at Lovejoy Wharf deliver. Alcove has heaters and hot beverages in addition to its outstanding menu of locally sourced goodness to keep diners aglow, while nearby Night Shift Brewing's experimental brewery and restaurant serves its acclaimed craft beers along with innovative pub food.
Cambridge
Situated just across the Charles River, Cambridge is, of course, its own bustling burg. Full of vibrant neighborhoods, Cambridge is most famous for Harvard Square, home to classic restaurants like Grendel's Den (popular for nearly 50 years for its inexpensive menu of American pub fare), beer-bar mainstay Charlie's Kitchen (which, fortuitously, already featured a year-round beer garden with tableside fireplaces) and the elegant Harvest, host to a lovely, tree-lined garden patio that is partially covered and heated. The highly lauded, beloved Craigie on Main in Central Square had built out its grilling oasis, the outdoor space Craigie Next Door, in a nearby parking lot.
Somerville
Much like Cambridge, Somerville is a vibrant city in its own right and not a neighborhood of the Hub, yet its proximity to Boston and public transportation makes its many squares easily accessible. Over at Assembly Square, find a slew of restaurants with outdoor seating, including River Bar, which—with its large outdoor space complete with fire pits, heaters and, now, plastic igloos—was seemingly constructed with a pandemic in mind, even though it debuted in 2014. The Neighborhood, beloved in Union Square since 1983 for its Portuguese-American cuisine and fresh-baked goods, still charms diners on its vine-encrusted outdoor space. Bronwyn, a German-themed tavern also in Union Square, serves brats, schnitzel and more at its outdoor biergarten, while in Davis Square, Mexican favorite The Painted Burro, pizza and pasta hot spot Posto and vintage diner Rosebud are welcoming hungry patrons to their al fresco setups.
Reservations may be required for limited outdoor spaces, so please contact individual restaurants to verify. The information presented was factual as of the writing of the article, yet due to the fluid nature of the current situation, some details, such as hours and the availability of outdoor seating, may have changed in the interim, so please call ahead.