High 5: Boston By Water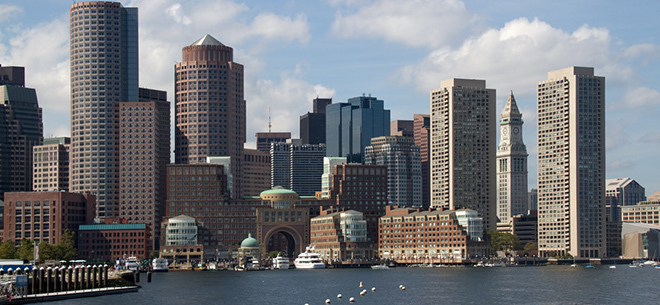 Cool down with these fun H20-based activities
Go Whale Watching: In conjunction with Boston Harbor City Cruises, the beloved New England Aquarium hosts three-hour whale watches that depart from its Central Wharf location. Take off to Stellwagen Bank National Marine Sanctuary to catch glimpses of such cetaceans as humpback, finback, minke, pilot and, possibly, highly endangered right whales along with white-sided dolphins and plenty of sea-going birds.
Take a Cruise: Non-profit tour company Boston By Foot (BBF) just resumed its Architectural Cruises (pictured) done in partnership with the BSA Foundation and Charles Riverboat Company, which highlight Boston's architectural gems along the Charles River and Boston Harbor. Excursions run Friday through Sunday and depart from Lechmere Canal Park in Cambridge. Less educational yet no less thrilling options for getting out on the sea include various themed trips—including sunset, music and dinner cruises—from Classic Harbor Line, Massachusetts Bay Lines, Liberty Fleet and the aforementioned Boston Harbor City Cruises (Codzilla, anyone?), as well as harbor sails on the nearly century-old Roseway schooner.
Ride the Ferry to the Boston Harbor Islands: Consisting of 34 islands and peninsulas, this national and state park is a hidden gem just a few minutes from Downtown Boston. Ferries run from Long Wharf to Georges Island (home of Fort Warren, which has origins going back to 1833) and Spectacle Island, a great spot for hiking and swimming. Both offer unparalleled views of the city. Also check for the occasional Boston Harbor Lighthouse Cruise featuring views of three light stations, including historic Boston Light on Little Brewster Island.
Rent a Kayak/Canoe/SUP: With several convenient locations, Charles River Canoe and Kayak is one of the premier places to borrow canoes, kayaks and stand-up paddleboards for excursions on the Charles and Mystic rivers. Guided tours of both the Charles River and Boston Harbor are also available. Located right on the Charles River Esplanade, the non-profit Community Boating has been offering low-cost sailing lessons since 1946. Today, the organization has branched out to offer two-hour rentals of kayaks and stand-up paddleboards to non-members. Non-members who are experienced sailors can also rent four- or five-person sailboats for the day.
Hit the Beaches: The Boston area might not rival the sun-and-sand scene in L.A. or Miami, but is does have several public beaches within its confines that are worth a visit. American's oldest public beach, the 125-year-old Revere Beach, lies just a few miles north of the city and is accessible via the MBTA's Blue Line subway. In the Hub itself, South Boston is home to miles of sandy coastline, including the popular Carson Beach, M Street Beach and Pleasure Beach on Pleasure Bay, which overlooks nearby Castle Island and historic Fort Independence. Lying not far south of Carson Beach are Dorchester's Savin Hill and Malibu beaches, which are easily accessible from the Savin Hill stop on the MBTA's Red Line. Dorchester is also host to the small-yet-scenic Tenean Beach, which lies on the Neponset River that separates Boston from the adjacent city of Quincy to the south. Quincy itself is home to the 2.3-mile-long Wollaston Beach, which is not far from the MBTA's Red Line stop at (you guessed it) Wollaston. In East Boston, watch the planes take off and land at Logan Airport while catching some rays at the lesser known Constitution Beach, which is near the MBTA Blue Line's Orient Heights stop.