High 5: Thanksgiving Dinner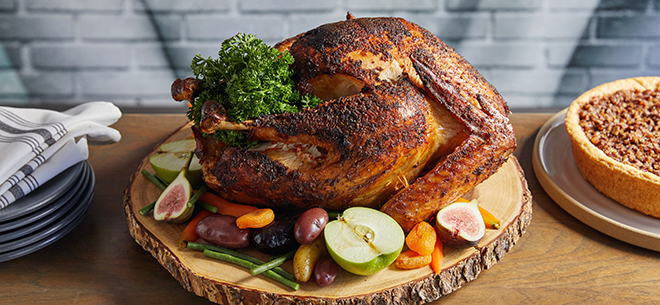 Take the work out of the holiday feast by partaking in turkey and more at these beloved Boston area eateries on November 25
Davio's Northern Italian Steakhouse: From 11 a.m.–8 p.m., the acclaimed local institution offers oven-roasted Vermont free-range organic turkey along with fixings like Yukon Gold creamy potatoes, butternut squash and cranberry apple chutney at all its area locations. For a bit extra, you can even get desserts such as apple and pumpkin pie. Place an order by 5 p.m. on November 23 and the same options are also available for pick-up the night before the big night.
Bambara Kitchen & Bar (pictured): A sumptuous three-course, prix fixe meal awaits diners from 1:30–7 p.m. at this Cambridge dining destination. Sup on squash soup or a mixed green salad before digging in to a turkey dinner with mashed potatoes, stuffing, roasted Brussels sprouts and more. The last, sweetest course is your choice of apple or pumpkin pie. Those who'd rather celebrate at home can pick up kits that include the above indulgences or à la carte options like sweet potatoes, all to benefit No Kid Hungry.
Grill 23 & Bar: Sup in luxury this Thanksgiving at one of the Hub's swankiest steakhouses. The à la carte menu is highlighted by traditional dishes such as turkey with sausage stuffing and roasted butternut purée, along with not-so-usual indulgences ranging from Wagyu beef and raw bar selections to steak frites and swordfish. Grill 23's sister restaurants—the Provence-inspired Bistro du Midi across from the Public Garden, new Back Bay seafood hot spot The Banks and Harvard Square's acclaimed Harvest—are also serving hungry diners on Turkey Day.
Artisan Bistro: Take in the holiday Ritz-Carlton style at this lauded hotel dining oasis in the Theatre District. Its four-course feast—with selections like pumpkin bisque, turkey with maple sausage dressing, braised lamb, bronzed tofu filet and pumpkin cheesecake from which to choose—is on from 1–8 p.m.
Longfellow's Wayside Inn: The historic property in Sudbury hosts three seatings beginning at noon in its dining rooms. Three different three-course feasts—centered around either turkey, prime rib or salmon Dijonnaise—can be found here. To top things off, one of six dessert items can be ordered, if you have room, for a few dollars more. For the truly indecisive, there's also a tempting buffet for those that want both lobster bisque and clam chowder to start their meals.