High 5: Christmas Take-Out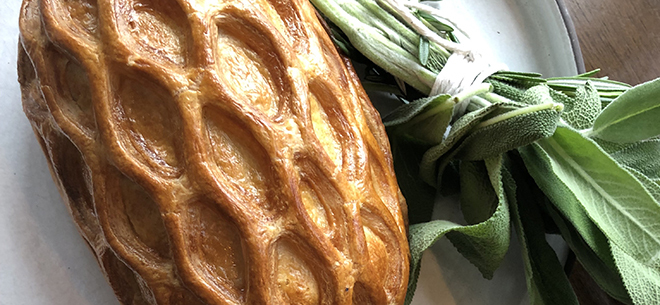 Photo: Colin Lynch
Take the stress out of the holiday by picking up a meal at one of these top-notch eateries
Bar Mezzana: Chef Colin Lynch offers his take on beef Wellington (pictured)—along with potato gratin and creamed spinach—for two, four or six diners, as well as several à la carte selections that include un-shucked oysters from Island Creek and white sturgeon caviar for a truly luxurious holiday dining experience. To partake, orders need to be placed by 9 p.m. on December 20 and carted away on December 23 by 6 p.m.
The Smoke Shop: Barbecue boxes for two for your holiday repast? Why not? Feast on brisket, pulled chicken, Brussels sprouts, corn bread and more by ordering now from Andy Husbands' acclaimed temple to slow-cooked meats. Order online now through December 17.
Sweet Cheeks Q: If one barbecue option wasn't enough, check out the holiday to-go menu at Tiffani Faison's beloved ode to down-home cooking in the Fenway. Choose one meat (slow-smoked turkey breast, smoked ham or half prime brisket) and get all the fixin's, including mashed potatoes and broccoli cheese casserole, or order à la carte. This can all be picked up at Faison's nearby sister restaurant, Fool's Errand, on December 23 if you order by December 17. Same goes for the takeout options at Faison's Italian eatery, Orfano, which showcases a four-course holiday feast for two.
Lucie: The new restaurant at the recently renovated Colonnade Hotel in the Back Bay proffers pick-up meals for five that include shrimp cocktail, Caesar salad, beef Wellington, brown sugar-glazed ham and tomato basil meatballs along with dessert (s'mores pie, anyone?) for those that order through December 18.
Jasper White's Summer Shack: Go coastal for your yuletide meal with this seafood standout's holiday menu-to-go. Order from either the Back Bay or Cambridge location and pick up fun dishes like lobster pot pie, jumbo cocktail shrimp, mini crab cakes and even delicious pies on December 23 or 24.