The (Gr)Ate Outdoors: Boston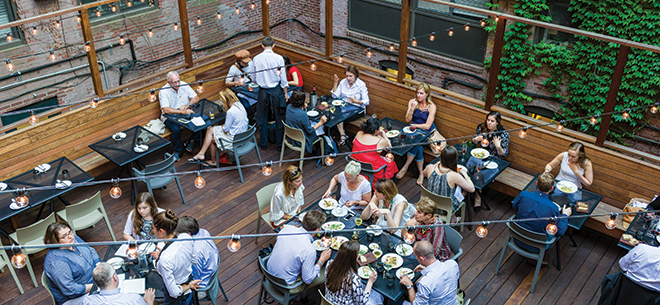 Our neighborhood-by-neighborhood guide to the Hub's best outdoor dining
Back Bay
Between Newbury and Boylston streets alone, this area boasts enough great patios to make most other cities jealous. Longtime favorites include such famed spots as upscale comfort food emporium Stephanie's on Newbury, fresh fish hot spot Atlantic Fish Company, steak destination Abe & Louie's, traditional French mainstay La Voile and wine bar/Italian eatery Piattini. Other faves that have popped up in more recent times are Eva, which took over the enormous outdoor space formerly occupied by the popular Cafeteria; modern French stand-out Rochambeau, ensconced within the Hynes Convention Center; and Michael Serpa's latest seafood concept Little Whale Oyster Bar. Over at the Prudential Center, several open-air dining destinations are available, including famed chef Jody Adams' Mediterranean-themed seafood restaurant Porto, internationally influenced tavern Earls Kitchen + Bar and Eataly Boston's ground-floor Il Patio di Eataly and the rooftop deck at Terra. There's still even more al fresco noshing to be had at locales off the main drags, including Jason Santos' Southern-themed Buttermilk & Bourbon on Commonwealth Avenue and romantic Mexican hideaway Casa Romero on Gloucester Street.
South End
Just as packed with acclaimed eateries as the adjoining Back Bay, the South End and its more residential vibe has a flavor all its own. Main thoroughfare Tremont Street is the site to experience a wide variety of cuisine at the outdoor spaces of Barbara Lynch's lauded B&G Oysters, hip American brasserie Black Lamb, longtime French favorite Aquitaine, casual pizza and ice cream joint PICCO and the Asian fusion of Banyan Bar + Refuge, which is home to one of the biggest patios in the area. Not to say the rest of the South End is lacking in great outdoor options, as it also boasts the Venice-themed SRV and its back deck (pictured) and street-facing dining at the whiskey-and-beer-focused Five Horses Tavern and the classic French mainstay Petit Robert Bistro, all on Columbus Avenue. And don't overlook in and around the South End's SoWa District, where diners can savor Colin Lynch's contemporary take on Italian at Bar Mezzana; tropical oasis/tiki bar Shore Leave; award-winning pizza, pasta and more at Coppa; and the Iberian flavor and flair of Michael Serpa's Atlántico.
West End
The area surrounding TD Garden used to be a lot less active during the warmer months, with the Bruins and Celtics mostly idle. With the renovation of Lovejoy Wharf a few years ago and the more recent addition of Hub Hall at the Garden, however, the area is now a year-round destination. The aforementioned Lovejoy Wharf is home to two water-facing restaurants with outside seating: Alcove, a specialist in New England coastal cuisine, and the Boston outpost for the acclaimed Night Shift Brewing, which not only serves highly prized craft brews—sometimes exclusive to that location—but also award-winning pizza and pub food.
Fenway
This sports-centered area is no stranger to being a hub of activity during outdoor dining season. As expected, patios abound in the home of Fenway Park, with predictable crowds on Red Sox game days. For sports fans, popular bars and restaurants with al fresco seating like the Cask 'n Flagon surround the stadium—with some, like Game On!, attached to the historic building itself. In the adjacent streets, check out brew pub Cheeky Monkey Brewing Co., Asian specialist Basho Japanese Brasserie, Tiffany Faison's beloved barbecue joint Sweet Cheeks Q and the eclectic Time Out Market Boston, a food hall featuring dishes from all over the culinary map. A bit farther afield, don't forget comfort food favorite Audubon with its intimate, bamboo-ringed back courtyard, and the off–the-beaten-path restaurants of Peterborough Street, including the classic neighborhood spot Thornton's Fenway Grille.
North End
The pandemic temporarily expanded outdoor dining opportunities in the city, even in the less-than-flexible confines of the ancient North End streets. With those impromptu street-dining areas gone, patrons can explore the more comfortable patios that still exist in this Italian stronghold, including the outdoor seating in cobblestoned North Square at fine dining staple Mamma Maria and seafood-centric Mare, which has long had an expansive outdoor deck complete with fire pits. For non-Italian fare, check out the all-American menu at Joe's Waterfront, one of the most sought-after outdoor perches along Boston Harbor. Speaking of which, don't forget the modern New England cuisine at Battery Wharf Grille at the harborside Battery Wharf Hotel.
Beacon Hill
In this stately neighborhood, Charles Street boasts a range of dining experiences with outdoor seating, from the casual, decades-long fave for breakfast, lunch and dinner, The Paramount, to The Whitney Hotel's upscale and acclaimed Mediterranean-influenced eatery Peregrine, to Scampo, Lydia Shire's lauded Italian hot spot at The Liberty Hotel.
Downtown
Faneuil Hall Marketplace has long been the heart of Downtown Boston, and it's no surprise that it is also one of the most popular destinations for outdoor dining in the city. Folks from all over gather to either grab a bite at one of the dozens of food stalls at venerable Quincy Market and head outside to either watch the crowds or one of the many street performers on site, or to sup on the patios of the many full-service restaurants. Another dining hot spot with a view is the Downtown waterfront, which boasts several eateries—from the luxurious steak palace Smith & Wollensky to the provincial French atmosphere of the InterContinental Boston's Miel Brasserie to the seafood-showcasing Rowes Wharf Sea Grille at the Boston Harbor Hotel—with water views. Nearby you'll also find al fresco seating at pizza favorite Nebo and at Jody Adams' Greek and Mediterranean-influenced Trade. On the edge of Downtown overlooking the beautiful Public Garden, Bistro du Midi charms with its fine French fare as well as the unparalleled peek at America's oldest public botanical garden.
Seaport/Fort Point
This booming yet still-developing area is the place to be in the Hub, with outposts of many of the city's most well-known culinary destinations found here. Exhibit A is Davio's Northern Italian Steakhouse, which has harbor views at tables both indoors and out where the kitchen serves up its expert takes on mouth-watering Mediterranean dishes. Down the road, the Liberty Wharf complex hosts several eateries, including the harbor-facing, multi-level Legal Harborside, the flagship for the lauded Legal Sea Foods empire. Pier 4 has long been a site for waterfront dining in Boston, and Woods Hill Pier 4 carries on this tradition with its farm- (and ocean) to-table fare. Old school New England clam shack The Barking Crab still flaunts its red-and-yellow tent—in addition to expanded outdoor seating—alongside Fort Point Channel, while the adjacent Envoy Hotel has "elevated" dining at its Lookout Rooftop and Bar. Fun roof decks also reside at Yotel Boston's Deck 12 and on the upper level of Trillium Brewing's acclaimed Fort Point brewery/restaurant. For Mexican dishes and margaritas in the sun, check out the outdoor space at Lolita, and for an elegant, Nantucket vibe, head to LoLa 42, a sushi and cocktail hideaway with global flair and a patio overlooking Boston Harbor.
Charlestown
This historic neighborhood, home to its namesake Navy Yard and the U.S.S. Constitution, is no stranger to outdoor dining. Indeed, the Navy Yard itself is home to The Anchor, a massive outdoor wine and beer garden that also serves food and hosts live performances and special events during the warmer months. Nearby restaurants include the beer-centric Brewer's Fork and Pier 6, a New England- and seafood-focused eatery with a deck perched right above Boston Harbor. For dining with history, visit Warren Tavern for a taste of American fare and the colonial past.
East Boston
Another waterfront locale, "Eastie" hosts a growing number of notable restaurants, some of which, naturally, provide outdoor seats with views of Boston Harbor. Look no further than the Cunard Tavern, which, although set back a few blocks from the water, is home to a top deck with sweeping views to complement its international fare. For more worldwide/New England cuisine, head toward the water, where ReelHouse dishes out chef Mark Orfaly's innovative menu items in an elegant setting both indoors and out. Those looking for a more casual setting should head to the tent-covered picnic seating at Seabiscuit, a specialist in hand-made meat pies that is open for lunch, dinner and weekend brunch.
South Boston
Boston's Irish-American stronghold has increasing culinary cred, thanks in no small part to star chefs like Karen Akunowicz setting up shop there. Her Fox & The Knife features Akunowicz's take on homemade Italian goodness, as well as outdoor seating overlooking bustling Broadway. Neighbor and American tavern Worden Hall has street-side dining as well, while the adjacent Cambria Hotel's Six West restaurant boasts both street level and rooftop outdoor dining (and drinking!) experiences. And don't forget the global street food-inspired fare served at Publico Street Bistro and Garden, which boasts a tucked-away atrium complete with a fire pit and its own bar.
Please check with individual restaurants to verify if their outdoor dining spaces are open for the season.