The (Gr)Ate Outdoors: Cambridge & Somerville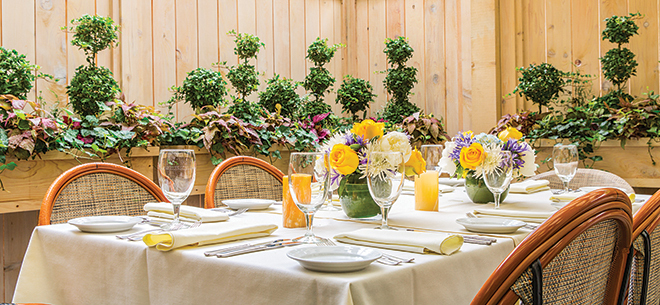 Photo: Dan Salafia
Our square-by-square guide to the best outdoor dining in Boston's northern neighbors
Davis Square
This Somerville hot spot near Tufts University has long been home to some of the area's most beloved restaurants, and, as luck would have it, some of them even boast outdoor seating. In the heart of the square, classic diner/pie emporium Rosebud, Irish pub/music venue The Burren and old-school pizza joint Mike's Food & Spirits. More toward the outskirts of the area, you can find wood-fired Neapolitan pizza experts Posto.
Union Square
Near Somerville's border with Cambridge, Union Square is packed with restaurants of all kinds. Two of the longer-standing eateries—which, perhaps not so coincidentally, boast large outdoor patios—are The Independent, a popular gastro-pub in the center of the square, and The Neighborhood, a welcoming Portuguese-American hangout known for its baked goods and excellent breakfast menu. For those looking for a taste of Germany and Central Europe, Bronwyn fits the bill, and even hosts a seasonal, outdoor biergarten. Indecisive diners can hop over to the multi-level Bow Market, which features a wide variety of global cuisines among its 15 food and drink vendors, all surrounding a central, open-air courtyard. The facility's on-site brewery and a wine bar certainly shouldn't hurt the decision-making process. There's also a newcomer to add to the mix: Michael Scelfo's Italian eatery Josephine recently made its debut at the Cambria Hotel, complete with ample al fresco seating.
Assembly Square
Assembly Row is the focal point of this area that has been vastly redeveloped over the last decade. Several of the restaurants at this bustling shopping/dining/entertainment complex face Baxter Riverfront Park and the lovely Mystic River, including the global street food/craft cocktail specialist River Bar, which features an expansive, year-round outdoor patio complete with fire pits. Outdoor spaces facing the water can also be found at Legal Sea Foods' Legal C Bar and Canadian import Earls Kitchen + Bar. A short walk away lies Andy Husbands' barbecue palace The Smoke Shop, which has its patio right next to Assembly Row's bocce courts.
Harvard Square
Home to world-renowned Harvard University, this popular Cambridge enclave has long been a dining destination, and many of its refueling outposts feature outstanding outside spaces. One of the most picturesque is the garden courtyard at Harvest (pictured above), one of the area's premier farm-to-table eateries. Speaking of which, farm-fresh cuisine can also be savored on the patio of the pioneering Henrietta's Table at The Charles Hotel. Another hotel dining experience of note can be found at the Sheraton Commander's Nubar, which features a menu of modern New England fare along with al fresco seating. Dining bargains along with fresh-air noshing can be found at both the classic hangout Grendel's Den and dive bar Charlie's Kitchen, home to a year-round beer garden. For a hospitable Irish-American vibe, check out the relocated Grafton Street in the heart of the square. For modern American pub food, head to Russell House Tavern and enjoy a pint or craft cocktail street-side, or amble to The Red House, a romantic hideaway boasting seasonal New England dishes along with a four-season patio. Another intimate hot spot is Daedalus, which has an in-demand roof deck perched above the square that offers a birds-eye view.
Kendall Square
This high-tech wonderland adjacent to MIT has its own vibrant restaurant scene, including Jewish deli stand-out Mamaleh's, which is a favorite for bagels, sandwiches and more, all of which can be enjoyed in the fresh air. Chinese eatery Sumiao Hunan Kitchen also has plenty of outdoor seats upon which to relax with an authentic Asian meal and creative cocktails. Fresh brews and fresh-air seats are available at Cambridge Brewing Company, while delectable pizza can be enjoyed on the patio at Area 4.
Central Square
Don't overlook this busy stretch of Massachusetts Avenue, as it's home to some of the most lauded dining destinations in the area. Two of these acclaimed eateries—Ken Oringer and Jamie Bissonnette's Little Donkey, an ode to food from places both exotic and familiar, and Pagu, which presents a mix of Japanese and Spanish small plates—can also be enjoyed al fresco.
East Cambridge
Although not technically a square, this area between Lechmere Square and the Charles River is nevertheless packed with dining options. Two hotel hot spots with notable patios reside here: Bambara Kitchen & Bar, which offers access the Kimpton Marlowe Hotel's courtyard as well as its own intimate space overlooking the Charles River canal to enjoy Mediterranean-influenced food and drink, while the Royal Sonesta Boston's ArtBar boasts seasonal American cuisine which can be savored on its lively outdoor perch overlooking the water.
Please check with individual restaurants to verify if their outdoor dining spaces are open for the season.