High 5: Thanksgiving Take-out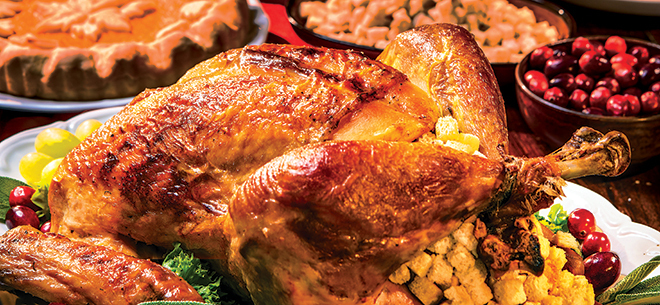 Take the labor out of the beloved holiday by picking up a delicious, ready-to-go feast on Turkey Day eve
Jasper White's Summer Shack: The seafood staple with locations in the Back Bay and Cambridge yet again offers loaded turkey dinners for 8–10 people with all the imaginable fixings. Customize your order with the addition of lobster pot pie and dessert pies like pumpkin, apple and pecan.
The Smoke Shop: Order the traditional, turkey-centric boxed dinner for two, or opt for à la carte with such non-traditional options as pork loin ham, whole smoked prime brisket and pumpkin spice butter cake for dessert. Turkey fans need not fret, as a whole smoked bird fit to feed 10–12 folks is also on the menu, which can be accompanied by Texas toast stuffing, mashed potatoes and more. Select your meal by November 17 for pickup at one of four locations on the Tuesday or Wednesday before Thanksgiving.
Lucie Drink + Dine: The Colonnade Hotel's dining oasis has you covered. Choose from options that include roast turkey, butternut squash bisque, wild mushroom brioche stuffing and cranberry chutney to carry out on November 23, or, if you want it fresh and hot, the morning of November 24—and there's even curbside pickup.
An in-person version can be enjoyed on Thanksgiving itself for only $35. Not in the mood for turkey? Then order steak frites, oysters, pizza, pork osso bucco and more from the menu.
Bar Mezzana: The South End Italian hot spot once again offers its Thanksgiving at home menu, which can be ordered through 5 p.m. on November 20 and picked up November 23. Opt for turkey for two, four or six people, accompanied by such classic sides as glazed yams, creamed onions and green bean casserole. Save room for pies, of course, or even such delectable treats as sweet pecan rolls and sour cream & chive pull-apart rolls.
Abe & Louie's: The essential Back Bay steakhouse features a takeaway meal that serves 4–6 and includes carrot ginger soup, baby spinach salad, pumpkin pie and, naturally, roast turkey, which comes with all the familiar faves (whipped potatoes, Brussels sprouts, stuffing, cranberry sauce and gravy, to be precise). Enhance the experience with à la carte sides like lobster mac & cheese, au gratin potatoes and bacon-wrapped scallops.