Fireside Dining in the Hub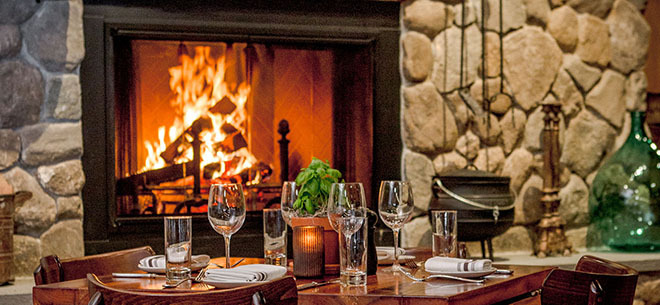 Our neighborhood guide to warmth-inducing eateries featuring roaring flames
Back Bay
The Back Bay is a much-desired restaurant destination any time of year, yet the ample number of flame-accented dining rooms make winter a particularly good time to cozy up to a table in this neighborhood. From beloved steakhouses like Abe & Louie's and Grill 23, which boasts two fireplaces, to seafood specialist The Banks (with three fireplaces to keep you warm and toasty), Back Bay has you covered. For dining with a spectacular view of the Public Garden along with the warming presence of its hearth, Mediterranean favorite Bistro du Midi is a must, while Clerys, a convivial Irish bar on the Back Bay/South End border, offers perfectly poured pints by its fireside. For French cuisine alongside an elegant, ambiance-enhancing fireplace, Deuxave on stately Commonwealth Avenue fits the bill, while hotel hot spots like Oak Long Bar Kitchen at the Fairmont Copley Plaza and Hotel AKA Back Bay's Precinct Kitchen Bar add their own charming setups to the mix.
Beacon Hill
Boston's Brahmin stronghold is also home to The Whitney Hotel's eclectic Italian eatery Peregrine, the site of both an indoor lobby fireplace and an outdoor fire pit. Over near the gold-domed State House, enjoy the longstanding pub the 21st Amendment, a popular watering hole ensconced in a historic building with a century-old fireplace by which John F. Kennedy allegedly wrote speeches.
Charlestown
Take a detour just a bit off the famed Freedom Trail and imagine yourself enjoying an ale with the Founding Fathers by the fire at the historic Warren Tavern, where such seminal revolutionary figures as George Washington and Paul Revere once imbibed.
Downtown
For a bit of luxury with your fireside dining, head to either The Ritz-Carlton, Boston's Avery Bar, a spacious lobby drinking and dining locale with a gas-fired hearth, or Yvonne's, which updated former resident Locke-Ober's swanky interior with cheeky, modern twists—and the original fireplace still intact. Over on the waterfront at the InterContinental Boston, RumBa allows visitors to lounge in comfort by a double-sided fireplace while sipping warming rum cocktails and enjoying a variety of tasty bites.
Fenway
Not just a summer destination for baseball fans, this bustling locale features at least one winter-friendly eatery in Citizen Public House & Oyster Bar, a modern tavern boasting raw seafood selections, a whole pig roast, an encyclopedic whiskey menu and a vintage fireplace.
North End
There are few settings more romantic than a fine Italian eatery (just ask Lady and the Tramp!), yet Boston's Italian-American enclave somehow manages to up the ante on those warm and fuzzy feelings. Just witness its handful of stopovers complete with passion-inducing open flames, beginning with seafood fave Mare, whose outdoor fire pits make for scenic year-round dining. Then there's Ristorante Euno, an off-the-beaten-path gem boasting authentic, seasonal cuisine in a rustic atmosphere. And don't forget Tresca from owner (and Boston Bruins legend) Ray Bourque. While the restaurant's intimate balcony table overlooking Hanover Street may be too cold a setting for winter, the warming flames of its fireplace more than make up for it.
Seaport
This bustling, gleaming district can still manage to be heartwarming, especially around the stone-lined hearth of Italian favorite Tuscan Kitchen. Down the road, defrost your tootsies at one of two fireplaces at the Seaport Hotel's Tamo Bistro Bar, while Legal Sea Food's multi-level flagship Legal Harborside boasts a rooftop lounge with a retractable roof, ocean views and an area to enjoy the heat from dancing, gas-fed flames.
South Boston
Look beyond this neighborhood's Irish lineage at modern eateries like the global street food-inspired Publico Street Bistro & Garden, which is home to gas-fed fire pits in a cozy garden atrium with a retractable roof. Lively gastro-pub Local 149 offers a cozy corner with a warming fireplace, while Capo (pictured), an upscale Italian supper club, features a stone fireplace and a wood-fired brick oven in an open kitchen that turns out delicious pizzas and more. Also check out Hunter's Kitchen & Bar, a lodge-like, dual-fireplaced spot that puts the South in Southie with down-home comfort food like fried chicken, gumbo, catfish and ribs.
Cambridge
Harvard Square remains the heart of Boston's northern neighbor, and there's no lack of winter-friendly dining options here. From bargain-priced eateries like classic dive bar Charlie's Kitchen, which has outdoor fire tables in its beer garden, and underground hideout Grendel's Den, to upscale dining at The Red House, the Sheraton Commander Hotel's Nubar and farm-to-table specialist Harvest, site of both indoor and outdoor fireplaces, open flames abound. Romantic ambiance also awaits at Italian-leaning Pammy's between Harvard and Central squares, while Catalyst, a dining space with international flair, and Oleana, Ana Sortun's Turkish-inspired destination, offer warming hearths in the Kendall Square vicinity.
Somerville
Don't overlook Boston's other northern neighbor, which offers a diverse array of restaurants in its many squares. In Assembly Square's thriving Assembly Row development, huddle with your loved one around the outdoor fire pits on the spacious patio at River Bar, a craft cocktail and street food-inspired oasis. Get comfortable with some comfort food and craft beer by the fire at Davis Square's Five Horses Tavern, while the lesser-traveled and nearby Teele Square boasts PJ Ryan's, a genuine Irish pub where patrons can enjoy pints of Guinness and a fireside chat.