High 5: Valentine's Day Dining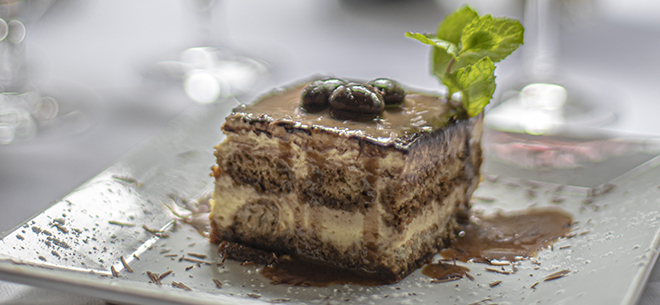 Photo: Carlos Arzaga
Savor special themed meals at these romance-inducing eateries
LoLa 42: For those that like to celebrate on the weekend, this Seaport hideaway begins the culinary celebration early, serving its trio of Valentine's offerings from February 10–14. Opt for either a sushi platter for two or a pan-roasted prime ribeye for two (sensing a theme?) and wash either down with the appropriately bright red Love Spell cocktail (pictured on our February cover).
Lulu Green: Southie's vegan oasis offers two opportunities to indulge in its V-Day four-course, prix fixe menu and cocktail pairing, on February 11 & 14. Delectable dishes include a "caviar" made from seaweed, hearts of palm salad, beet cavatelli and toffee pudding for dessert. As far as the accompanying adult beverages, modesty prevents us from mentioning the names of most of these risqué concoctions, so make your reservation and experience them for yourself.
Brassica Kitchen: The acclaimed Jamaica Plain eatery presents an exclusive tasting menu on Valentine's night. Details are to come, yet given the restaurant's reputation for experimentation, the menu is sure to make for a thrilling and adventurous night of dining. Not up for leaving the house on a Tuesday night? No problem. Order a take-out dry-aged duck à l'orange with Kyoto carrots for two (also with optional wine pairing) that you can heat up at home with your loved one.
Mamma Maria: The North End fine (and romantic) dining stalwart brings the love with a three-course, prix fixe menu featuring 25 different dishes and desserts from which to choose, such as roasted bone marrow, carpaccio, lobster agnolotti, osso buco and tiramisu (pictured).
Idle Hands Craft Ales: Top-rated, Big Easy-inspired food truck Revelry provides the victuals at the Malden-based brewery's Valentine's Day Beer Dinner, a four-course extravaganza that boasts beer pairings (naturally) with each dish. Speaking of which, sup on fried oysters, crabmeat bisque, smoked pork chop and more at this popular annual event that begins at 7 p.m.