High 5: Mother's Day Brunch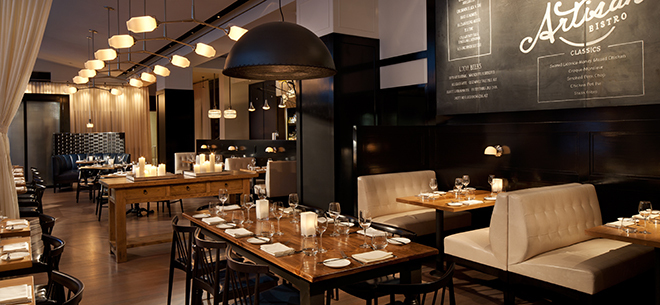 Treat mom to an indulgent dining experience on her special day
Artisan Bistro (pictured): Head to The Ritz-Carlton, Boston for a prix fixe, four-course extravaganza that begins with a chef's selection of charcuterie and cheese and ends with "Chef Chris' Decadent Dessert Table" (need we say more?). In between, sup on choices that include crepes, baked brie, the lobster roll (both Maine and Connecticut style are available) and beef tenderloin medallions.
Bistro du Midi: This elegant, bi-level dining destination overlooking the Public Garden features a three-course feast, with openers like tuna tartare and Spanish octopus au poivre and mains that include soft shell crab Benedict and flat iron steak frites, as well as a trio of hard-to-choose-from, delectable desserts—vanilla bean crème brûlée, rhubarb sorbet with strawberry mousse and apricot verrine.
Davio's Northern Italian Steakhouse: All locations of this fine dining mainstay offer special menus for mom's big day, with such unique selections as lobster breakfast pizza topped with bacon and eggs a the Seaport location, and cinnamon French toasts with berry compote and Chantilly cream at the flagship Back Bay outpost.
Henrietta's Table: The farm-to-table pioneer at The Charles Hotel in Harvard Square boasts a four-course spectacle, with opening rounds featuring options like Maine rock crab and corn chowder and Caprese salad, while entrée selections are highlighted by leg of lamb and Atlantic cod loin. The closing dessert sampler of chocolate truffle cake, key lime pie and strawberry sponge cake is just as tempting.
Nubar: Also in Cambridge's Harvard Square, this sleek, modern New England eatery at the Sheraton Commander goes buffet-style on Mother's Day, with dishes running the gamut from quiche, French toast and omelets made to order to grilled salmon, herb-crusted chicken and a roast sirloin carving station. Save room for decadent sweets like flourless chocolate cake, carrot cake, cupcakes and assorted mini-pastries.