Spank! Harder heats up the Wilbur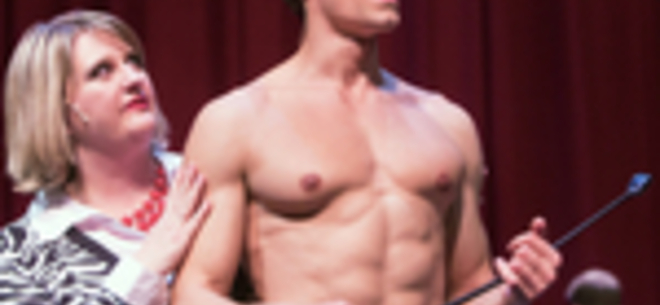 Whether you love it or hate it, you've got to admit that the
50 Shades of Grey
trilogy practically invites parodies—and there are plenty to choose from. Playing at the Wilbur on Sun. Feb. 23,
Spank! Harder
is the sequel to 2013's musical satire
Spank!
We chatted with Michelle Miracle (yes, that's her real name), who plays the author, "E.B. Janet."
How does this show differ from Spank!?
It picks up where the first one left off, but it recaps the book for those who haven't seen the show or haven't read it. It's about Tasha Wood and her billionaire boyfriend. She's in love with this billionaire but she finds herself wanting more, because he's not really committing to her...It includes a special twist to the story where Hugh, the Christian Grey-like character, finds himself competing against a love rival, a man who is a mega hunk, but is completely straight and narrow, contrasting with Hugh's naughty nature.
What's your favorite thing about this show?
I like that it celebrates the books in a way that relates to women in the audience. I feel like my character is on their side and is an extension of the audience—you know, women who are happily married but want to have excitement and want to entertain themselves with something a little darker, or a little naughty. I get to relate to the audience directly; I'm the one who gets to react to them on a different level than the other characters.

How do audiences typically respond?
I think it's such an accessible show for all women, because even those who haven't seen the first show, or weren't bold enough to buy the book can still enjoy it, because it's its own story. But it's really entertaining, and it's funny, and it's raunchy. Then again, there's this character that the audience can relate to: my character.

And at the meet-and-greets?
After every show, the actors will come out and take pictures for free with anyone who wants to, and it's just a really fun way to connect with the audience and hear their reactions. And of course, most of their attention is directed toward the shirtless men on the show, but they're very happy and excited, and it's a very fun way to get to interact with us. They're also usually a little tipsy.
Tell us about your character.
I'm the author. Her name is E.B. Janet. She is married, but she wrote this first book, and you know, the book was really successful, but she wants to write a sequel because she ran out of money. She wants another taste of champagne, so to speak. Tasha is like a younger version of herself, so she sees herself as Tasha, so she kind of acts out her fantasies through this younger character.
What's the most challenging part about playing E.B. Janet?
You know, I think the most challenging part is just to keep the story moving, because my character, while I'm relating to the audience, I'm not always the most important thing going on onstage obviously, so I just have to kind of come in and move the story along.
What's your relationship with your castmates like?
There are four of us in the cast, with two understudies. We're a very tight-knit group. You kind of have to have a good sense of humor and an easygoing personality to live like this and to do this show. We all inspire each other to be the best we can be, making a lot of inappropriate jokes along the way.
Anything to add?
I would just say that it is a great way to have a ladies night out, but men should come too, because it will pay off. Coming to the show…they will thank us later.