The Hub's favorite facades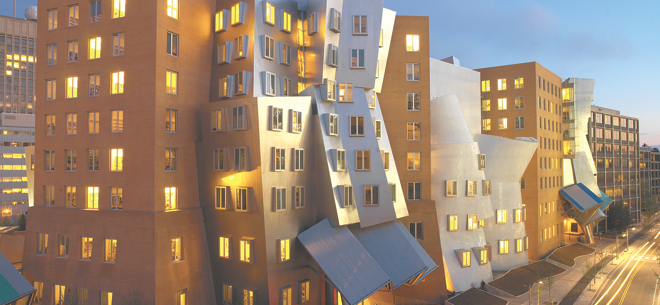 The Hub is a playground for architecture buffs, boasting buildings from the post-Medieval era (the Paul Revere House) to modern times (the Institute of Contemporary Art). For a lesson in Architecture 101, simply hop on the T for a little self-guided tour. These are a few of our favorite facades.
Old State House (1713)
. This Washington Street landmark, the site of the Boston Massacre, claims the distinction of being the oldest surviving public building in the city. The architect and builder is unknown, though its High Georgian style suggests it was designed by a trained British architect.
T stop: State Street.
The State House (1798)
. Charles Bulfinch, recognized as America's first native-born architect, designed this Beacon Hill beauty. The dome was originally covered in copper rolled by Paul Revere, but now it shines in a sheath of gold leaf.
T stop: Park Street.
Trinity Church (1893)
. Often referred to as one of the most historically significant buildings in America, Trinity Church was designed by Henry Hobson Richardson. The "starchitect" created a new category of architecture with the distinctive building: Richardson Romanesque. Daily tours are available. While you're there, head across the street to the equally impressive
Boston Public Library (1895)
for a free art and architecture tour.
T stop: Copley
.
Boston City Hall (1968)
. It's been called one of the ugliest buildings in the world, and people still occasionally demand its demise. Designed by Kallmann McKinnell & Knowles, the seat of city government is a prime example of Brutalist architecture: bulky, asymmetrical and no-frills.
T stop: Government Center
.

The John Hancock Tower (1976)
. This 60-story glass tower, designed by I.M. Pei & Partners, is celebrated as one of the greatest skyscrapers of its era—but it wasn't always so beloved. When it was being constructed, the building's glass windows took to falling out and shattering on the streets below until eventually, all 10,344 original panes of glass had to be replaced. Excavation for its foundation also caused issues for nearby Trinity Church, and the narrow design turned out to be extremely susceptible to wind. Today, it's hard to imagine Boston's skyline without it.
T stop: Copley
.
Ray and Maria Stata Center (2004)
. Architect Frank Gehry described his Stata Center as "a party of drunken robots," and it's hard to think of a better description of the unique structure at M.I.T. The $300 million building houses the school's Computer Science and Artificial Intelligence Laboratory, among other departments. In 2007, M.I.T. sued Gehry and a construction company, citing design and construction failures.
T stop: Kendall Square.