Boston Accent: Designing Woman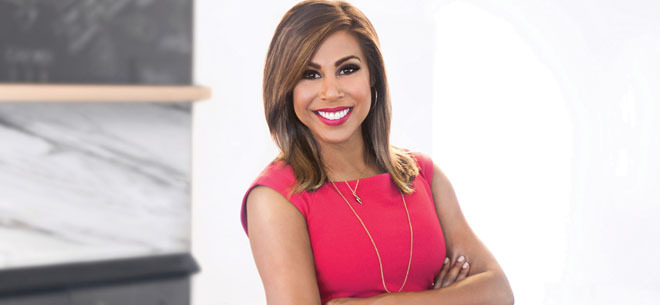 "I'm a Boston girl," explains interior designer Taniya Nayak. Raised in the Boston area, Nayak earned her M.A. in interior design at Boston Architectural College before opening her own firm here, Taniya Nayak Design LLC, in 2005. Nayak has created looks for many homes and restaurants, is the brand ambassador for Ellen DeGeneres' home product line "ED on Air," and is frequently on HGTV and Food Network, where she is a featured designer on "Restaurant: Impossible."
Each restaurant that Nayak designs is special to her. "They all become your babies," she sighs. One of her firm's larger undertakings was Bostonia Public House on State Street, where the design scheme incorporates many elements of Boston's history—think maps from the city's past—but with a trendy slant.
Nayak, a former bartender, is in the know when it comes to fine dining in Boston. "I'm biased," she admits, and can't help recommending cocktails by mixologist Jarek Mountain, who "creates the most amazing cocktails, and always with a sense of humor." You can sip these classic film-inspired cocktails at Back Bay Harry's on Berkeley Street, in an urban chic space designed by Nayak herself.
Restaurants are not Nayak's only forte. She will moderate a panel on "Creating Your Dream Home," on Saturday, November 21, at the Boston Home Décor Show. What's the secret to turning your dream home into a reality? "Lots of thought and pre-planning," Nayak advises. She recommends creating mood boards to show to an interior designer, which will save time by enabling smoother communication. Nayak's personal aesthetic marries natural light with a subtle palette of grays and raw finishes, yet not without "a good pop of color and a few statement pieces." Most importantly, says Nayak, "I want a space where people can come in and feel completely relaxed and comfortable, but it still looks fantastic." Perhaps this is Nayak's Boston roots speaking, since she describes the city's signature style as "casual, but with elegance."
If you are unable to catch Nayak at the Boston Home Décor Show, you'll still have a chance to see her host a battle among America's most over-the-top holiday decorators on ABC's "The Great Christmas Light Fight" when it premieres in prime time on December 7.
Photo: Magdalena M