Boston Accent: In the Deep End
New England Aquarium Associate Vice President, Visitor Operations & Engagement Deb L. Bobek, Ph.D. helps the facility maintain its important mission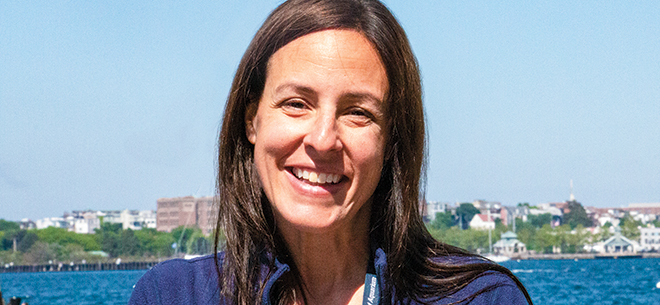 Anyone who has had a fun and informative time at the New England Aquarium over the past several years (and there are a multitude, judging by the facility's popularity), they have largely one woman to thank. A fixture at the Aquarium since she was hired as Manager of Visitor Education in 2007, the now-Associate Vice President, Visitor Operations & Engagement Deb L. Bobek has a myriad of responsibilities at the aquatic wonderland, yet they all come down to one thing: ensuring visitors have the best experience possible.
Despite a background in finance and a Ph.D. from Tufts University "primarily focused on youth development organizations," Bobek has maintained, as she states, a "passion for the mission of the Aquarium," and is even a certified diver with nearly 200 dives in the Aquarium's largest exhibit, the Giant Ocean Tank, under her belt.
Asked about what constitutes a typical day, Bobek declares, "There is no such thing as a typical day at the Aquarium!" She goes on to share that "there is always something new, different and exciting happening." As evidence, look no further than the new Indo-Pacific Coral Reef exhibit. "This new floor-to-ceiling exhibit holds 9,000 gallons and features beautiful, colorful fish from this region, which is one of the most biodiverse marine habitats in the world." The display also serves an important educational function in today's world by explaining "how humans can help preserve and protect coral reefs by slowing climate change and reducing human impacts on the oceans." Bobek is also excited about the Aquarium's 50th anniversary. "There will be lots of activities over the coming 12 months to help us celebrate this milestone," she promises.
When challenged with picking a favorite animal or display, Bobek maintains that "It really all depends on the day." Different creatures promote different reactions, from the peacefulness of the jellyfish to the joy of observing the playful penguins, seals and sea lions. It's the smaller exhibits, however, like her "personal favorite," the jawfish enclosure, that "reward people in unexpected ways."
Behind the scenes, Bobek touts the organization's larval fish program, which collects eggs from the resident critters to repopulate the Aquarium's displays or those of like-minded facilities. "This is just one great way for us to continue our sustainability practices!" That's an ethos we all could try to emulate.