Andrew Lippa and A Little Princess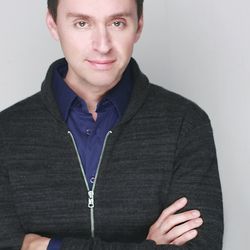 One of the most poignant things that Andrew Lippa's mentor Stephen Schwartz ever said to him was, "Sooner or later, you'll find that you're writing the same thing over and over again."
Of course, Schwartz, the composer/lyricist behind smash hits including
Godspell
,
Pippin
, and
Wicked
, didn't mean that Lippa was destined to become stuck in a rut. He meant that Lippa would inevitably find himself drawn to the same universal themes time and time again. Though it may be difficult to draw a connection between Lippa's diverse body of work—from
A Little Princess
to the 2000 Drama Desk Award-winning
The Wild Party
to the highly anticipated
Big Fish
—he insists that there's a string that ties them all together.
"We have our themes that we care about that end up being what we gravitate toward," Lippa says. "I haven't quite pegged what that is for me, but I know it has something to do with the nature of feeling isolated or excluded, whether that's my identity as a Jew, or my identity as a gay man, or my identity as a person who used to be a fat kid who was ostracized for being fat, or anything else that contributed to the alteration of my self-worth issues."
That message is evident in
Big Fish
, the story of a tall tale-telling traveling salesman that premieres on Broadway this fall. Although Lippa politely declined to comment on the show, which is nine years in the making, he opened up about the growing trend of blockbuster movies being made into musicals.
"In the theater, one show makes a trend," Lippa says. "I think the history of the world is made of individuals who believe something can make a difference, and I think that is all that really matters. ... I don't know how trends come and go, but I think it begins and ends with the passion of a writer who believes they can make it into something unique and viable."
Lippa's recent project
I Am Harvey Milk
, an oratorio recorded live at the San Francisco Gay Men's Chorus 35th Anniversary Concert in June, is the perfect example of that commitment. "I was passionate about writing something about my gay experience," Lippa says. "I feel an affinity with him." Future presentations of I Am Harvey Milk will take place in Los Angeles and Washington, D.C., according to Lippa.
Though less obvious, Lippa also found a kindred spirit in
A Little Princess
, a musical that makes its Boston area debut at the Strand Theatre presented by Fiddlehead Theatre Company in November. Based on Frances Hodgson Burnett's 1905 children's novel of the same name,
A Little Princess
follows Sara Crewe, a young girl who goes from living with her father in Africa to a life of drudgery in a London boarding school. When times get tough, Sara's active imagination and generous spirit save her. Lippa, who wrote the music for the show, says he felt an affinity with Sara, having been a willful child himself growing up in Detroit.
"I grew up in a family where I wasn't always allowed to express how I felt about things, that those feelings weren't allowed," he says. "I wasn't allowed to express my opinion or my sense of what I wanted. And I can connect to Sara Crewe on that level because she's been taken away from everything that's familiar to her and wants to make sense of the world she's living in."
The song "Live Out Loud," he notes, is universally inspiring, as Sara sings, "I don't wanna go along with the crowd / Don't want my spirit broken and bowed / Why do I have to hide what I'm feeling inside? / I wanna live out loud." Lippa says, "Taken out of context, 'Live Out Loud' could almost be a gay anthem as much as the story of a little girl who wants to assert herself and have her will matter."
Nearly 10 years after its premiere,
A Little Princess
still holds a special place in Lippa's heart, but he admits that he initially hesitated to get involved. First of all, there was the fact that he felt like an unlikely candidate to write the score. "I can't understand what led them to me, because how you get from
The Wild Party
to
A Little Princess
makes no real sense, except for the fact that if you look underneath it at the emotional life, the passion underneath it is what they were looking for," he says. Director Susan Schulman and choreographer Andy Blankenbuehler urged him to join their crew, and Lippa says, "I was very swayed by the people involved and Brian Crawley's story."
When selecting
A Little Princess
for Fiddlehead Theatre Company's first show as the resident company at Dorchester's historic Strand Theatre, director Meg Fofonoff says it was Lippa's music that won her over. "I listened to the music and it sent chills down my spine and spoke to my heart as something that is a universally meaningful story about an inner journey, self-discovery, confidence, and finding where you really belong," she says.
Fofonoff promises a more complex staging than some other companies have produced, offering an alternative to traditional holiday theater fare. "It's a long journey, it's a big story, but it's very intimate at the same time," she says, "so it needs to be done in a very grand way and draw each and every person into the intimacy of the story."
Lippa, whose husband grew up in Framingham, feels a "significant connection to Boston," and will be at Fiddlehead's November 29 performance. He'll offer a talkback session following the show.