Pano's Guide to The Fenway
From baseball and dining to museums and nightlife, this vibrant neighborhood is Boston's entertainment and cultural epicenter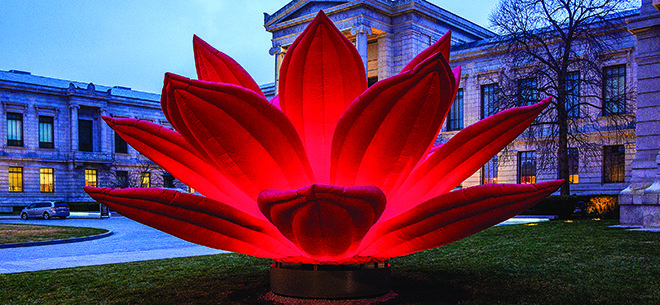 Museum of Fine Arts
A Fenway staple since 1909, this encyclopedic institution currently hosts the exhibit Megacities Asia (above), a sprawling showcase of the work of 11 contemporary Asian artists that is spread throughout both the inside and outside of the museum. Other highlights are the reconfigured European galleries, including the re-installed works of Monet.
465 Huntington Ave., 617-267-9300, mfa.org
Symphony Hall

This architectural and acoustical marvel features the Boston Pops' Classic Rock program (May 10 & 11), John Williams' Film Night (May 12 & 13) and a Gershwin Celebration (May 18 & 19).
301 Massachusetts Ave., 617-266-1492, bso.org
House of Blues
One of Boston's premier concert venues, this restaurant/music hall hosts upcoming shows by The Used (May 6 & 7), X Ambassadors (May 8), Frightened Rabbit (May 9), Lamb of God (May 10), Caravan Palace (May 22) and more.
15 Lansdowne St., 888-693-BLUE, hob.com/boston
The Citgo Sign
Like a shining beacon above Kenmore Square, this iconic 60' x 60' piece of neon art (now powered by energy-efficient LED lights) has been welcoming visitors to the Fenway since 1965.
660 Beacon St.
Fenway Park
Sox tickets may be hard to come by, but history-minded baseball fans can get up-close and personal with the Green Monster and other familiar mainstays of the 1912 stadium on a Fenway Park Tour.
4 Yawkey Way, 617-226-6666, boston.redsox.mlb.com/bos/ballpark/tour.jsp
Hojoko
This hot spot at The Verb Hotel boasts a delicious menu of Japanese-style pub food, fun cocktails, sake, a rock 'n' roll vibe and even vintage table-top video games.
1271 Boylston St., 617-670-0507, hojokoboston.com
Tiger Mama
Tiffani Faison of the acclaimed Fenway barbecue joint Sweet Cheeks offers her take on the cuisine of Southeast Asia. Shrimp Saigon, anyone?
1363 Boylston St., 617-266-1300, tigermamaboston.com
Game On!
A sports bar conveniently located at Fenway Park, it now features Max & Leo's coal-fired hot dogs (pictured) and pizza, not to mention a ping pong club downstairs.
82 Lansdowne St., 617-351-7001, gameonboston.com
Isabella Stewart Gardner Museum
Known for its priceless collection and striking garden courtyard, this iconic Fenway museum hosts many of its best works in Off the Wall: Gardner and Her Masterpieces in its modern, Renzo Piano-designed extension that was added to the original 1903 structure in 2012.
25 Evans Way, 617-566-1401, gardnermuseum.org
Landmark Center
This 1928 Art Deco shopping and entertainment complex, poised for a large expansion, includes REI, Bed Bath & Beyond and a 13-screen cinema.
401 Park Drive, 617-603-5600, landmarkcenter.com