Mary Zimmerman gets to the heart of The Jungle Book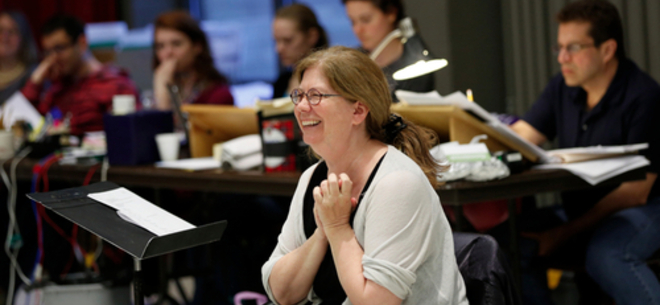 Tony Award winner Mary Zimmerman may be known as a genius in the theater world, but she still gets nervous when she signs on to direct a new show. "You have to work your way through about 72 hours of this sort of overwhelming, frenzied feeling about it and then just forget about all that," she says.
That was her initial reaction when she agreed to direct Disney Theatrical Group's musical adaptation of
The Jungle Book
—and then she got down to business. She and her design team headed to India, retracing
The Jungle Book
author Rudyard Kipling's steps over the course of two weeks to glean inspiration for the production.
"We just adore it, to go to the country where our tale is set," Zimmerman says. "We're sort of proud of ourselves, how hard we work. We really don't goof off. We have things we want to see and we're always, always talking. Ideas come up 24-7 and it's always circulating around the show."
Their immersive experience resulted in an imaginative production that dazzled audiences at Chicago's Goodman Theatre before moving on to Boston's Huntington Theatre, where it's playing through October 13. From the elaborate set and costumes to the Indian/jazz fusion soundtrack, the production combines the best of the beloved Disney film with the authenticity of Kipling's India.
"My own pride in the show is how it honors and yet I hope somewhat deepens and extends the experience of that film," she says. "That it has all of its goofiness and lightness and I hope beguiling charm, but it also acknowledges its melancholy and the sort of needing of the story, of having to inevitably grow up and leave the consciousness that you have as a child where everything is new and wonderful, and you're very close to animals because you're pre-verbal yourself, very close to nature. Inevitably you have to leave that behind and you can only recover it in story and in memory and works of art."
One of Zimmerman's first ideas for the musical was to rework the classic jazzy tunes, giving them an Indian flair. "I wanted to do the tunes utterly accessible, utterly recognizable in every possible way, but deflected through Indian players and instrumentation as well as the big brass section that we have," Zimmerman says. It was an easy marriage, considering the foundational similarities between swing music and Indian music.
The band includes six Western instrumentalists and six Indian instrumentalists, a close-knit group that's taken to performing together under the name Out of the Jungle when they're not in the orchestra pit. "We have masters in the pit, and they do get to improvise every night," Zimmerman says. "Every solo you hear in our show is improvised. They never play the same thing twice. They surprise us every single night."
Richard Sherman, who co-wrote the film's original songs, was present throughout the process and enthusiastically offered his stamp of approval. "He is this wall of positivity and energy and thrill," Zimmerman says. "He said, 'I know Walt [Disney] is looking down and my brother [Robert Sherman] is looking down, and they just love it.'"
The costumes, designed by Mara Blumenfeld, were also deeply influenced by the Indian excursion. The challenge was to suggest the animal characters without looking like cheesy plush mascots. They decided to take an element or two of each animal and then collage it on to the human figure, using details like turbans and figure-altering costumes to suggest animal features. "We wanted to be free and easy in response to each animal and not make an overarching approach to all of them," Zimmerman says. "They're each unique characters as well as species."


The Jungle Book
has already attracted comparisons to Disney's
The Lion King
, something that Zimmerman has mixed feelings about. "It's the basis of comparison that is off-putting to me. Why is the fact that it's two women an actual basis of comparison?" she says, referring to
Lion King
director Julie Taymor. "If it were two Jews, two black people, would anyone say anything like that ever? Are we such rare creatures that we're automatically points of comparison? … Absolutely I am a huge admirer and supporter of Julie Taymor and any female director. I think it's tough in this world a little bit. But at the same time, there's a sexist element."
It's unclear where
The Jungle Book
will go after its Boston run, but the hope is that it will find its way to Broadway. However, that's up to Disney, and for now, Zimmerman says, they're concentrating on
Aladdin
. "I can feel their focus drifting off of us, I can feel it. And also I'm not sure they feel it's commercial enough. … I know that personally they love the show very, very much. They're very weepy about it. They're very entranced and proud of it, I know they are. But whether they think that it's something that's really mass marketable is another question. And I knew that from the day I signed up with them. That what I was going to do was bound to be somewhat quirkier and handmade and the aesthetic of what I call the backyard—just make do with what you have and pretend."
She adds, "I was never trying to pneumatically pump it up, to be a kind of gigantic, colossal spectacle. I wanted to stay true to the heart and spirit of that little story and its unassuming modesty … I'm not trying to make a Broadway musical. I'm trying to make something really, really good. That's not to say that those two things are mutually exclusive, but that I'm working from the inside on that, not the outside."