Ask a Concierge: Seaport's Betty Salemme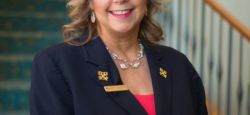 Photo by Samantha Murray
Want the inside scoop on Boston? Look no further than the ultimate experts: The city's concierges. We chatted with Betty Salemme, the head concierge at the
Seaport Hotel and World Trade Center
about being an ambassador for Boston.
How long have you been working at the Seaport?
I have been at the Seaport for over 16 years. I was recruited from the Hilton at Logan Airport where I began my career over 29 years ago. I was part of the opening team here at Seaport. We were the pioneers in this area—the first hotel to open in this thriving neighborhood you see today.

What do you think sets your hotel apart from others in the city?
Seaport is a fabulous place to work; our management team inspires and empowers us. Our team members are treated with the same respect we show our guests and the team is what makes Seaport the warm, welcoming home-away-from-home that it is. Our hotel is unique because our employees are encouraged to be themselves; we are real people sharing our life experiences with our guests. We treat all of our guests like family and our guests appreciate that. With our state-of-the-art amenities, delicious food and beverage, and a warm, caring staff, guests return year after year just to see what we have added to an already incredible hotel.
Say a guest has only one day to explore Boston. What's your advice?
I'm really partial to a structured tour of the city for the quickest way to learn about Boston. We are fortunate to have a handful of great options to choose from. Also one of the many wonderful hop-on, hop-off trolley tours where guests can learn about the city from an experienced guide then disembark and walk around the city and explore on their own. Nearly all of the trolleys pick up guests just outside our door and the rates are incredibly reasonable.
What are some of the most common requests you get from guests?
We are located right on the water and many of our guests want to know what's right here in the Seaport District, along the harbor's edge, and in the Fort Point Channel area. Our guests can walk just 10 minutes and be visiting the Boston Tea Party Ships and Museum, the Boston Children's Museum, the ICA or Harpoon Brewery. Right on site we have the Charles River Boat Company, Bay State Cruises and the Spirit of Boston. New shops and galleries are popping up every day. The area is now one of the hottest dining destinations with so many incredible options. Steak, seafood, Mexican, sushi, Italian and sports bars—we have them all. Evening is the best time to just stroll the harbor, watching the sunset or taking in a concert at the Blue Hills Bank Pavilion, just a few blocks away. These wonderful businesses have made the Seaport a destination not to be missed. I feel so fortunate to be part of such a thriving neighborhood.

Have you had any strange or memorable requests over the years?
Oh yes, there have been many. The one that comes to mind was the couple that called and asked me to set up an appointment for their marriage license and blood tests and arrange a Justice of the Peace to come to our hotel and marry them just before they boarded a plane for their honeymoon. It was such fun to set up their suite with flowers, candles and music—we had the ceremony performed right there. My husband played photographer and we were the witnesses on their marriage license. It was wonderful and I felt like we truly contributed to their happy memories.
What are some of the most important characteristics of a concierge?
I have always felt you can take a kind, caring person and teach them how to be a concierge. Kindness and compassion comes from the inside—you need to have these traits before you choose a career as a concierge. You also have to love people. I find it's important to treat each day as a new beginning as so many questions will be the same day after day. Yet you need to answer each question with the same enthusiasm and passion you did the first time you heard it. Every guest that encounters a concierge deserves that! You always need to remember that you are the ambassador to your city, your hotel and your state. I want every guest to leave our hotel feeling that I somehow made a difference in their stay. There is nothing more rewarding for a concierge than to be remembered fondly by a guest.
When you're not working, what do you like to do in Boston?
Everything. I love to come into the city and explore. I love to walk, run, ride and cruise my way through Boston, taking in all it has to offer. I have been a concierge for nearly 30 years and I am still learning. That's what makes our city so special—it is vibrant and exciting, always changing, and I want to be able to share all that Boston has to offer for many years to come.

And lastly, what's your favorite thing about this city?
I love that our city is so accessible. A guest can come into the city and explore any of our exciting neighborhoods quite easily. And then you can venture just outside the city and be in Cambridge in 15 minutes, or in Salem within 30 or even on the Cape in just over an hour.