Ask a Concierge: Julianne Hennebury of Marriott Long Wharf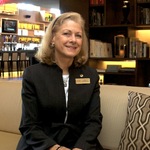 Image by Lizz Scannell
A Boston-area native with a love for the sea, Julianne finds a perfect fit sharing her love of the city with guests at the Marriott Long Wharf. Working right along the harbor waterfront, she gives travelers from all over the world the details on where to explore the history, heights, and harbor sites of Boston.

How long have you been working at the Marriott Long Wharf?
What brought you to that hotel, and to Boston, in general?
I have lived in the Boston area my whole life and having worked in the airline and hospitality industry for many years. It was only natural to become a concierge in this fine city. Marriott's reputation for being a great place to work drew me to the opening of the Quincy Marriott back in 2001. Consequently, I moved on to Marriott Long Wharf in 2003 to work where there would be more tourists and international travelers.

What do you think sets your hotel apart from others in the city?
Marriott Long Wharf's location says it all. It is in close proximity to the North End, Quincy Market, and the Aquarium. Long Wharf is the departure point for almost all of the waterfront activity in Boston (harbor cruises, whale watching, ferry service, and specialty cruises) and a subway station is just outside our front entrance! Within the hotel we all work as a team to ensure that our guest's experience in the hotel and the city is one they will not soon forget. We are proud to have many guests return through the years along with family and friends.
Say a guest has only one day to explore. What's your advice?
A trolley tour is the way to go. I encourage our guests to get out early in the day and explore as many stops as they can. Getting off at the Prudential Skywalk is a must as it gives them a bird's eye view of what can't be seen from the trolley. As a bonus, they get to experience a harbor cruise. If they are more interested in just history, I encourage them to take a guided tour of the Freedom Trail or explain to them how to explore it on their own. Our city is so rich in sites that date back to the birth of our nation.
What are some of the most common requests you get from guests? Have you had any strange or memorable requests over the years?
Our guests want to get out and explore the city, which is why the trolley tours are so perfect! The Freedom Trail, Sam Adams Brewery and the Tea Party Ships & Museum are top site requests. Then, of course, great places to have lobster and clam chowder. The most memorable requests have been for help with marriage proposals, whether it be setting an itinerary leading up to the proposal or setting up their hotel room. Coordinating music, food, champagne, and even special lighting in the hotel room is a challenge when it all needs to come together for that "magic moment". A strange request last summer was from a guest that wanted to arrive at a Red Sox game by helicopter. Unfortunately that was not possible, so the couple went by horse drawn carriage part of the way, then was met by an antique limousine to continue on to Fenway Park.
When you're not working, what do you like to do in Boston?
Shopping, dining in the North End, walking around the Public Garden and getting out on the harbor when the season permits. I love the ocean and feel that the Harbor Islands are one of Boston's hidden jewels. And lastly, what's your favorite thing about this city? Wow! Only one thing? As a major city, I love Boston for all its diverse neighborhoods, the fact that you can easily walk around, and the HISTORY!!