New Wave North End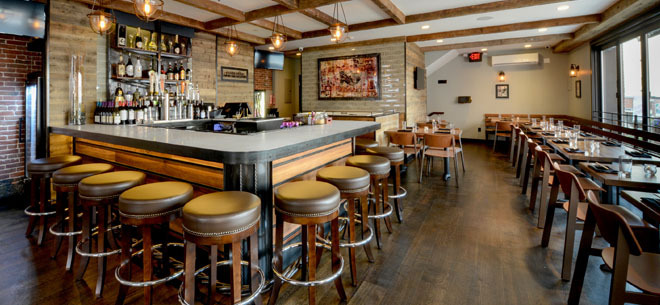 When most people think of North End dining, they envision such staples as pasta, fried calamari, cannoli and loads of red sauce. If that's what you're craving, there's no better place on earth to get your fill. Yet what if you're looking for something a bit different than the traditional fare? That's where a growing number of newcomers to the neighborhood, like the eateries listed below, come in. -Scott Roberto
Crudo (78 Salem St., 617-367-6500, crudoboston.com): Italians are no strangers to seafood, yet a sushi restaurant (with an Italian name, at that) is a rarity in these parts. When Crudo ("raw" in Italian) debuted earlier this summer, it brought modern Japanese cuisine to the heart of the neighborhood. Partake in creative Asian delicacies, sake and more for lunch, dinner and late night at this two-story space.

Urban Cantina (76 Salem St., 857-753-4615, urbancantinaboston.com): This North End hot spot draws inspiration from south of the border. Billed as a "modern Mexican grille," Urban Cantina has quickly become one of the city's most popular places to enjoy contemporary takes on quesadillas, burritos, enchiladas, margaritas and yes, even Taco Tuesdays.

Ward 8 (90 North Washington St., 617-823-4478, ward8.com): Named for the local voting district as well as a classic drink invented in Boston, this cutting-edge cocktail haven was a pioneer of the area's non-Italian scene when it debuted in late 2013. Mac & cheese and steak frites in the North End? Yup. Also check out the summer lobster boils on Sunday and Monday nights—not to mention the bar, which cranks out a tempting mix of familiar and modern craft libations.

Parla (230 Hanover St., 617-367-2824, parlaboston.com): This newcomer debuted last year and scores points for its creative versions of both traditional and non-traditional Italian dishes. Shareable small plates, craft cocktails and a speakeasy-inspired decor also distinguish this cozy room from its neighbors.

Rigoletto Ristorante (115 Salem St., 857-350-3402, rigolettoristorante.com): Yes, a ristorante is no rarity in the North End, but this recently opened modern Italian eatery has committed to using only naturally raised meat and poultry (organic, pan-seared pork chops, anyone?). Also featured is a sleek bar serving cocktails from mixologist Jason Pollini that use fresh cold-pressed juices and even sake.

Photo: Crudo interior